Five surprising ways to use Google Now on Tap
The flagship feature in Android Marshmallow can do more than just dish out movie times or find the address of a nearby restaurant.
Some of this connection to other Google services already exists in Calendar, but launching Now on Tap gives you additional context and quicker access to more information. Try it out with different appointments and see what other surprises that you might find.
A handy research tool
While it's still sometimes painful to do on a smartphone or tablet, I do find myself writing more frequently from a mobile device. Google Docs and Microsoft Word are particularly good on a big-screen phone like the Nexus 6P or an Android tablet.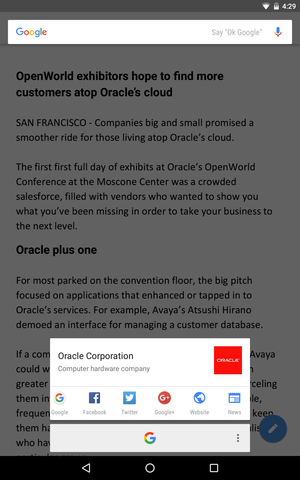 It's not always razer sharp, but Google Now on Tap can give you some useful information during your next writing project.
By accident I fired up Now on Tap once and was surprised to find a couple of cards that turned into good pieces of related research. Now on Tap doesn't quite give you the same context as Docs' built-in research tool, but I've begun to launch it more and more when writing inside a document. And if you're using Word, which currently doesn't have a similar feature on Android, it's a good way to see if your subject matter can use an injection of web research.
An extra boost to your music
Google Now on Tap can also be an assistant DJ when you're playing music. When you launch it inside of a music application, it will pop up related YouTube videos, the artist's profile, social accounts, and other links.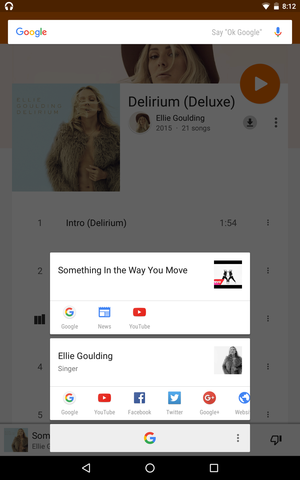 Fire up Google Now on Tap while streaming music to get links to artist profiles.
Give it a try next time you're streaming with Spotify, Play Music, or another service. Because results vary by what's on the page, it's worth popping it up from time to time to see what else you might discover.
A solid news aide
Sometimes when you're reading a news article you want to know more about related topics. Google Now on Tap is pretty good at that—hold the button and you may find more about the subjects of the story. It's certainly hit and miss, but at times it's been great for giving me more relevant stuff to browse.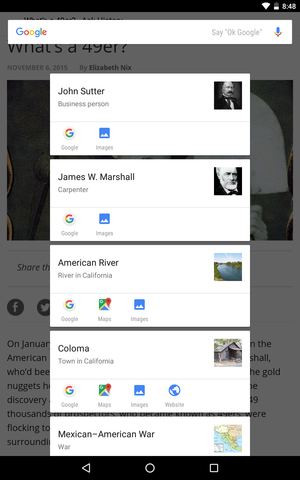 Try out the service while reading an article on the web or another app to get some related content.
You don't just have to be in Chrome. It works in apps like Feedly, Pocket, and of course Google News. If it's a specific topic from the article you're after, your best best is still to highlight that word and use Chrome's ability to perform an instant Google search. But Now on Tap shows itself here as another case where it can be a useful assistant.