Five surprising ways to use Google Now on Tap
The flagship feature in Android Marshmallow can do more than just dish out movie times or find the address of a nearby restaurant.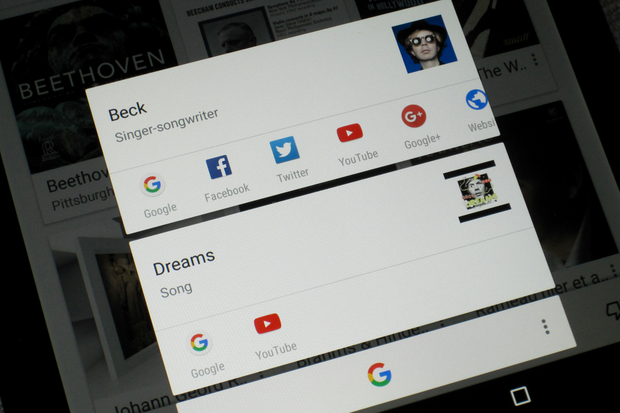 Credit: Derek Walter
In just a short amount of time with Android 6.0 Marshmallow, Google Now on Tap has become an inseparable piece of how I use Android. It's transformed Google Now from a helpful app that lives off the side of the home screen to the real brains of the operating system.
As a quick refresher, Google Now on Tap is one of the standout new features of Google's latest version of Android. When you hold down the home button, Google scans the content of your screen and then offers links to apps, services, and websites that pertain to what you're looking at. When it works, it's quite magical.
But as we found in our Marshmallow review, the feature is certainly in its early days. It shines in situations like finding a restaurant or movie information that you discuss with a friend over text message. But after living with it for a while, I've discovered some other ways that Now on Tap will reduce the number of steps you would take to perform other actions.
Here are five ways that I've found Google Now on Tap excels in everyday tasks. It's a great start, though I expect this feature to become as essential to the Android experience as Gmail and Chrome.
Elevate your sports game
Following sports is about far more than just getting the score. A lot of team news, injury reports, and other details come from social media and other related apps. This is where Google Now on Tap can really give you a boost by pulling up multiple services at once.

Google Now on Tap can be the right tool to help out the sports fan. Click on image to enlarge.
As the image indicates, you calling up Now on Tap when checking a score gives you one-touch access to other apps and relevant Google search terms. The ESPN link takes you inside the app, right to a page with the team schedule. Twitter and Facebook go directly to the team's profiles. It's a great example of Google's deep linking capabilities to make apps talk together more directly.
Power your calendar
Fire up Google Now on Tap while looking at a calendar entry and you may get the name of the business, its website, and a Google Map that pinpoints where you need to head for that next appointment.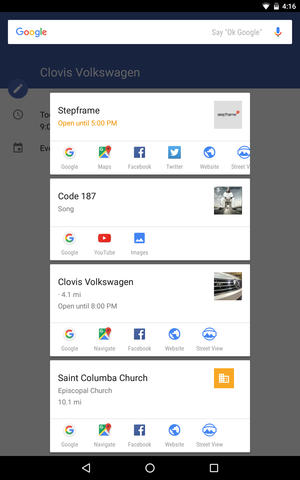 Google Now on Tap can help you get to your next appointment. However, expect some weirdness: I have no idea how a song named Code 187 got in here.