First-person-view drone racing: Five essential tips for beginning pilots
It's part video game and part action sport. First-person-view drone racing lets you fly at up to 70 mph in seemingly impossible places.
"My advice is to get in cheap and learn a bit about how to build your quad and tune your quad," said Anthony Cake, head of ImmerisionRC. "Buy a recommended frame and recommended components. Forums are a great source of advice. Put it together, build it, and get help from an expert to tune it."
Don't be afraid to crash
Flying is crashing, and repairs are a huge part of drone racing and the FPV hobby. Crashing will help you learn from your mistakes, find the limits of your ability, and find your aircraft's ability. Plus, the more you crash, the better you will become at repairing your aircraft. I'm not encouraging you to focus on crashing. I only want to express the importance of pushing past your fears.
"Buy a frame that will take a beating and crash over and over and over, and cost you very minimally in terms of repairing," says FPV pilot Tommy Tibajia. "When you can do that, you can fly less conservatively and be more confident about your flying, knowing that you can push yourself to the edge a bit more each time."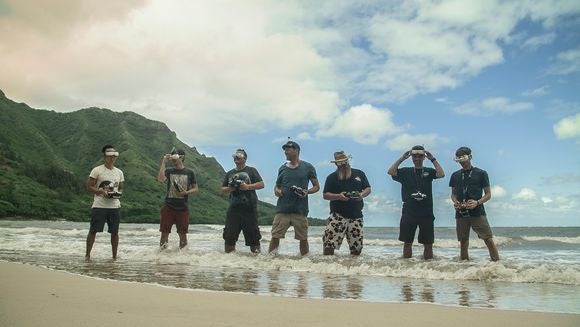 FPV flying—on the beach in Hawaii.
"Practice, practice, practice," said Chad Nowak, winner of this year's Drone National racing and freestyle events. "Don't be afraid to crash. The less scared you are to break something, the more likely you are to try new things. When you try new things, you'll make mistakes, and learning from your mistakes is how you improve."
Finally: Just compete
Competing pushes you to the next level. Racing events are becoming more and more common, and there are events for all different types of skill levels. Some great resources for drone racing events are RotorSports, Aerial GP, and MultiGP. MultiGP is especially helpful for those just getting into the hobby, as they have FPV racing classes, social fun flys, a dedicated forum, and chapters all over the United States.
It's important to have equipment that's durable and you're comfortable flying with. As you race more and more, you may want to modify your aircraft. I'd strongly recommend only changing one parameter at a time if you decide to modify your aircraft. This will help with troubleshooting if the performance gets worse—you'll know exactly which part is the culprit.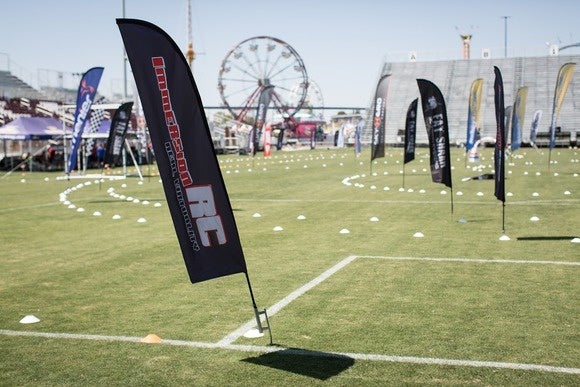 The racing field at the Drone Nationals Sacramento, CA. Credit: Adam Patrick
"Find something that works and once you've got it working nicely, stick to it," says Tommy Tibajia. "And stick to it for a long time until you've gotten very comfortable with it and you know how it handles, and how your stick handles it. And only change one thing at a time."
Previous Page 1 2 3 4 Next Page