First-person-view drone racing: Five essential tips for beginning pilots
It's part video game and part action sport. First-person-view drone racing lets you fly at up to 70 mph in seemingly impossible places.
Start small
After researching, get hands-on experience by flying with friends, or using simulation software. FPV Freerider is an excellent free option. You should also check out the upcoming game called Liftoff, which promises an accurate flying experience based on real-world models and physics. It's being developed by two industry leaders, Immersion RC and Fatshark, in collaboration with LuGus Studios.
If possible, fly with experienced friends so you can "buddybox" for interactive feedback. This flying technique allows you and a friend to connect transmitters, so if you get into trouble, your more experienced partner can take over the controls. If you're looking for friends to fly with, forums, YouTube, the Academy of Model Aeronautics (AMA) Magazine, and Flite Test are great resources.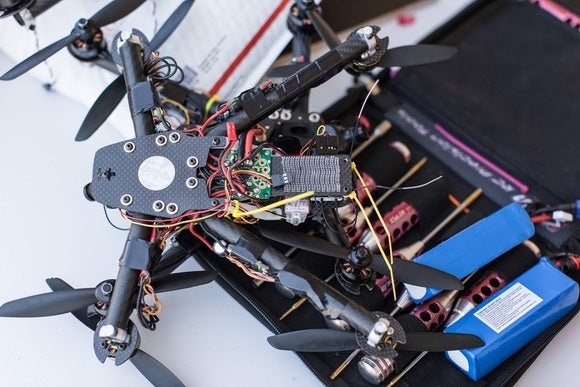 Here we see drone parts on Brian Morris's workstation at the Drone Nationals. Credit: Adam Patrick Murray
As for the hardware itself, you should invest in a small, inexpensive, FPV ready-to-fly multirotor. Not all FPV models are meant to be raced, so do some research to find a model suited for racing. Drone Proz has a lot of great FPV racing options, including small quadcopter models. But regardless of what you buy, your first drone shouldn't cost more than $150, whether you're buying a ready-to-fly model or a DIY kit.
Personally, I learned by flying a Blade Nano QX through my basement. This quadcopter is a great option for beginners, because it's nimble and gives you a racing feel on a much lighter, smaller scale.
Learning this sports takes a lot of trial and error, and it's important to keep flying until you feel comfortable. When you can fly a Nano QX FPV through a series of 18-by-12-inch gates (stationary obstacles placed around the course to keep pilots on the track), you're probably ready to move to a more serious model like the QAV 250.
Build your own
Building an aircraft helps you understand how the aircraft does what it does, and, more importantly, it helps you learn how to repair it. Right now, I'd recommend starting very small with a 180mm to 250mm size drone, because the smaller the aircraft, the more durable and less expensive to repair it will be. However, the industry is changing rapidly, and everyday more options are available.

Brian Morris builds his competition drone at the Drone Nationals. Credit: Adam Patrick Murray
Start by picking a popular frame and going with a proven, tested setup. Forums are a great resource for finding successful setups. ImmersionRC and Team Black Sheep both have racing setups available to buy: the Vortex and the Gemini, respectively. The Vortex is already assembled and needs minimal assembly, while Team Black Sheep's Gemini has detailed build videos available to help with assembly. If you're going with a different frame and setup, BorisB's blog on RCGroups, Flite Test, and YouTube are great resources for build videos, blogs, and articles.
Previous Page 1 2 3 4 Next Page