First-person-view drone racing: Five essential tips for beginning pilots
It's part video game and part action sport. First-person-view drone racing lets you fly at up to 70 mph in seemingly impossible places.
Imagine a first-person-view video game where you're racing through the air and dodging obstacles. Losing even one-tenth of a second can cost you the race. Now imagine that it's not a video game. This is the sum-total experience of first-person-view (FPV) drone racing. Drone racers see all the action from their drone's perspective as they weave through the air at upwards of 70 miles per hour. And it happens in places that were previously physically impossible to navigate.
Drone racing can be a bit intimidating, but I'm here to help. I've spent the past five years as an R/C flight enthusiast, and I founded the popular community and YouTube channel Flite Test in 2010. More recently, my feature film, Rotor DR1, features a drone race inspired by our community before FPV was even "a thing" (you can find it on Hulu here).
Through these endeavors, I've had the pleasure of spending time with the world's best FPV drone pilots. They're all eager to help with advice for new pilots, so let's dive straight into the five most important things a beginning drone racer needs to know.
Do your homework
Start by doing research. YouTube channels like CharpuFPV and forums like RCGroups and Flite Test are great resources for beginning flyers. You can also visit your local flying field, and just start asking questions.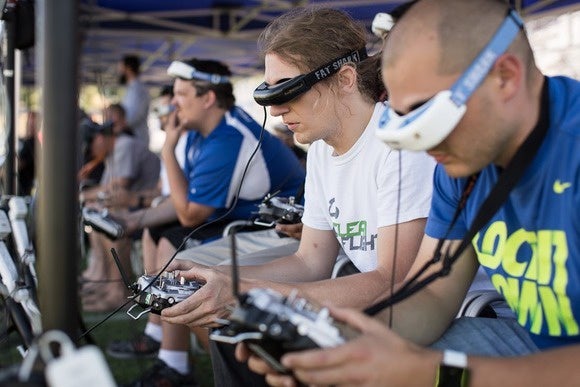 Pilots compete in a racing heat at the Drone Nationals in Sacramento, CA. Credit: Adam Patrick Murray
"FPV is very community-based," said Steele Davis, runner-up in the Freestyle competition at the Drone Nationals racing event. "If you have buddies who you're competing against, you end up getting better faster than you would if you were just basing your stuff off of the pros."
Pay particular attention to anything about flying R/C safely. It's easy to forget about safety and just go out and fly anywhere. But because understanding the parameters of safe flying is so crucial, even the pros will emphasize its importance.
"Safety is one of the most important things," said Carlos Puertolas, a professional drone racer on Team Lumenier. "We're so much in the eye of the public, we have to make sure we're doing it correctly." Indeed, the biggest mistakes newbies make include flying in populated areas, or flying too far before understanding how to properly control the aircraft.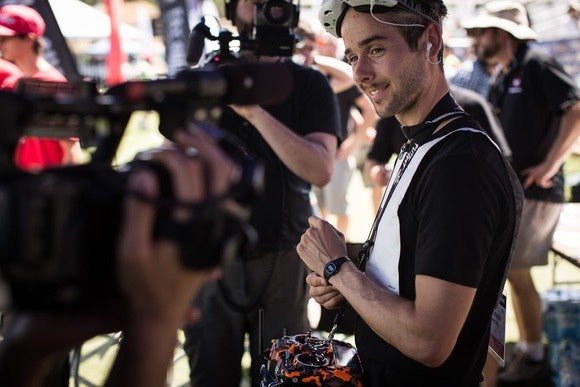 Steele Davis prepares to compete at the Drone Nationals. Credit: Adam Patrick Murray
Research is also important in order to spend your money wisely. Most racing models are quadcopters (four propellers) or hexacopters (six propellers), and measure 250 millimeters or less between the two propellers furthest from each other. Models are also commonly referred to by their size or class (250, 180, etc) and number of propellers. But that's just the short story on equipment. You'll want to research all your options before spending a dime.