First look: The Mercedes-Benz B-Class Electric Drive tries hard to be normal
The B-Class Electric Drive is Mercedes-Benz's attempt to meet EV enthusiasts and regular, everyday drivers somewhere closer to the middle.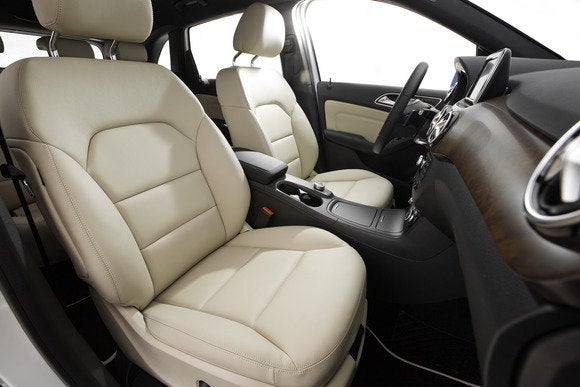 IMAGE: MERCEDES-BENZ. You don't feel like Mercedes-Benz skimped much inside. The seats are leather, and the design seems tasteful rather than plasticky.
Now let's talk competition. BMW's i3 is due at dealer showrooms around the same time as the B-Class Electric Drive. Both cars are expensive even by electric-vehicle standards: The BMW i3 will cost $41,350, and the B-Class Electric Drive, $41,450. Along with the $49,800 Toyota RAV4 EV they basically comprise the midrange price/feature category for EVs, with the Tesla Model S atop them all at nearly $70,000 to start.
Apparently, a lot of EV drivers are too young and rich to worry much about the price. However, these midrange models should offer more than lower-end options--from itty-bitty cars like the Smart electric drive (made by Mercedes-Benz and starting at $12,490) to the popular Nissan Leaf (starting at $35,020). Everyone would like longer battery range, of course, but better driving experiences would also help. The lower-end models tend to be so virtuous, they're barely tolerable to drive.
I tried the i3 at the Consumer Electronics Show in January. It definitely has some pep--and a range up to 110 miles. But its unusual design could turn off some people, and the the B-Class is bigger.
Now that BMW and Mercedes-Benz are entering the EV market, it's clear that the category has arrived. Available models span a wide range in both features and price. Mercedes-Benz has a chance to set a standard in balancing EV virtue with some of the brand's trademark pampering. I wish the range were longer, though. Watch this space for a full review of the B-Class Electric Drive's many intriguing technologies.