FiLIP review: This wearable lets you track your kids and text their wrists
As a locator it works well. But the cell phone features fall flat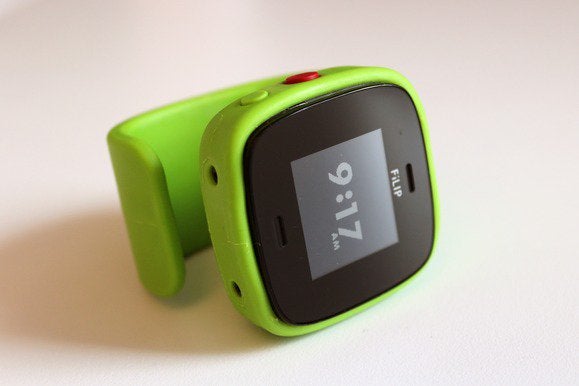 Losing track of your kid even for just a few minutes is a horrible feeling. And especially once the tykes start school (and after-school activities), parents aren't by their sides 24/7 anymore. Being able to check in on their location anytime can provide real peace of mind, and the FiLIP wearable GPS locator does that well.
It's also a real cell phone that can make calls to and receive calls and texts from a handful of pre-approved contacts, but unfortunately, the calling features are only so-so. We loved FiLIP when we demoed it at CES, but our review unit didn't wow us quite so thoroughly.
Putting the hard in hardware
The FiLIP comes in a lovely green color (blue, red, and pink wristbands are $39 extra), but the rigid rubbery band doesn't buckle shut and it's not adjustable at all. The company says it's intended for kids ages 5 to 11, and that's a big age range with a variety of wrist sizes. FiLIP is sold in AT&T stores, so I recommend you stop by and test it out before buying. (It's $200 and $10/month for unlimited voice and data, but the rest of the family can be on any phone carrier; they just need the FiLIP app for Android or iOS.) The company offers two sizes: "Little" and "Big," but the Big version isn't available just yet, and it's a whole new version of the watch, not just a bigger wristband.
If you're worried about radiation from having your kid physically wear a working cell phone all day, FiLIP has earned a certification from the FCC for its clever antenna design. The company says it "emits radio energy only when active, and directs it away from the child."
The FiLIP charges with a magnetic charging accessory that connects to your laptop or power adapter with USB. It's supposed to last around two days between charges, and send push notifications to the parents' smartphone when it needs to be charged. In our testing, the two-day estimate was right on, but when we let the battery run down, sometimes we'd get the notification and sometimes we wouldn't. (More about that later.)
The app works great
FiLIP's app is well designed and easy to use. The main features are Locate, which shows the watch's location on a map, Call and Message, which communicate, and SafeZones, where you can set up geofenced areas around, say, home and school, and be notified when the watch enters and leaves.
There's also a red Emergency button, which you can press to put a FiLIP watch into emergency mode--that'll repeatedly call every number in the FiLIP's contact list until someone picks up, and even then you have to go into the FiLIP app to cancel the emergency. Putting the watch in emergency mode from the app may seem odd, but it is way to force your kid to call you. Kids can trigger an emergency from the watch itself by repeatedly pressing the red button.