Fall wardrobe refresh: Apps for buying and selling clothes
If you can't find the time or the nerve to deal with your local thrift shop, try taking your second-hand civvies online.
My blue suede boots are haunting me.
Worn once, they've been sitting neglected in a corner of my closet, gathering dust and awaiting the day I find the courage to throw them in a brown paper bag and haul them down to the neighborhood thrift shop, where a 19-year-old art student with creatively dyed bangs will look at them, give me a fake smile, and say, "No thanks, honey." Selling clothes to thrift and consignment stores can be an awkward experience--scratch that, it *is* an awkward experience, every time. Nothing erodes self-esteem quite like inviting an uber-hip thrift store employee to judge the worthiness of your wardrobe and then insult you with a $3 credit for your Outside Lands 2010 T-shirt.
And that's a shame, because second-hand shopping offers the best of both worlds: You get new threads, your wallet stays happily stuffed with bills, and those blue suede boots find a better home. Whether you're looking to buy or sell, several apps and services are happy to assist your foray into the sustainable fashion movement--and they can help you avoid waiting in a glacial sellers' line at a thrift store with a garbage bag of cast-offs in your hand and a hopeful look on your face. Here are six sartorial standouts.
Etsy

Pros: Nicely designed, well-organized storefront with huge variety across all categories. Good browsing experience. Buyers can follow favorite sellers.
Cons: Shipping times are inconsistent, as sellers ship from different locations and with varied commitments to promptness. Returns are rarely accepted. Selling entails opening a shop.
Features: Etsy (Web, Android, iOS) may be the best-known service on our list for buying and selling vintage clothing. The selection is generally very good, especially for women's clothing and accessories. In particular, you'll find a ton of fantastic jewelry. Etsy features handmade goods too, perfect for gift-giving (or keeping for yourself). But Etsy probably isn't the best choice for selling one-off items from your closets--it's more of a marketplace, where each seller establishes a long-running shop.
ThredUp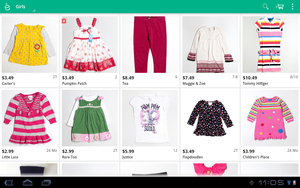 Pros: Easy selling process. Wide selection of discounted and top-brand children's clothing. Offers donation and fundraising options.
Cons: No men's clothing. Accepts only top brands. No infants' clothing under size 12 months.
Features: ThredUp (Web, Android, iOS) is most notable for dealing in high-end children's clothes, though it also carries a fair selection of women's and juniors' clothing from brands such as Theory, J. Crew, and even Target Designers. The service makes selling easy: simply order a bag (provided free by ThredUp) via the app or Web; fill it with clean, lightly used clothing; and sit back and collect up to 40 percent of the resale value. This service generally doesn't accept items that were originally priced at under $20.