Facebook's vision for Oculus Rift realized: YouVisit takes VR beyond gaming
YouVisit has taken hundreds of thousands of panoramas on more than 1,000 college campuses and put together virtual walk-throughs for prospective students.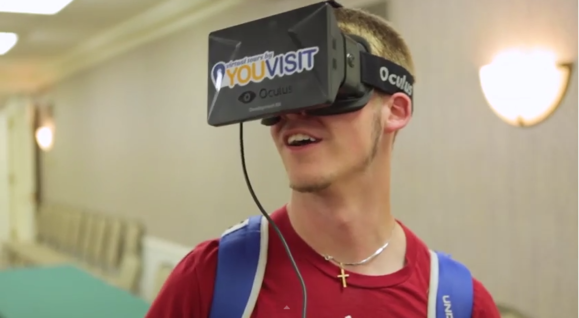 Facebook CEO Mark Zuckerberg boldly claimed that Oculus Rift "has the potential to be the most social platform ever" after acquiring the virtual reality company back in March. But Rift is still under development, and so far developers have been focused on making games for the headset, so it's difficult to imagine what those social applications would look like.
When YouVisit, a 6-year-old company that builds virtual college campus tours, invited me to their New York office to check out Rift's non-gaming potential, I had to see what they were working on.
I have never used the Rift before, though my colleagues have demoed games on the headset and claim it can make you feel nauseous. I wasn't sure what to expect when YouVisit told me I could take a stroll through Yale University's scenic campus simply by gesturing with my head. I pulled the Rift down over my eyes and kept my fingers pressed to the headset, as if it would fall off my face at any moment.
"OK, you're gonna want to put your hands down," YouVisit cofounder and CEO Abi Mandelbaum advised me, laughing.
Like being there
YouVisit has taken hundreds of thousands of panoramas on more than 1,000 college campuses and put together virtual walk-throughs for prospective students. The tours are embedded on the universities' websites, Facebook pages, and YouVisit's own site. About 20 percent of college students don't visit any college campuses before submitting their applications, usually due to financial issues. YouVisit found that 83 percent of students visit between zero and four schools, but consider about 20 when they start the application process.
Virtual tours give you the opportunity to experience a campus without flying across the country to see it. Schools that partner with YouVisit have seen an increase of up to 30 percent of physical visits.
So when Oculus began shipping development kits last summer, Mandelbaum and his team jumped at the chance to try it out. YouVisit decided to run a pilot program with 10 universities, including Yale, which will kick off this August when college recruitment season begins. Recruitment officers will take the headset on the road when they visit high schools to let prospective students take the virtual tour.
"A lot of the challenges in the past with virtual headsets is that it's been all about virtual worlds," Mandelbaum said. "Here, we bring the real world into the virtual reality headset. We've done a lot of research, and as far as we've seen, we're the first educational application of the Oculus."
My peek into the halls of Yale using Rift reminded me of a scene from Minority Report, where Tom Cruise sees a grid of images before him and uses his hands to move them around. Except you can't use hand gestures to control what you see with the Rift--yet. Instead, you use your head: Simply focus on an image to select a new building on campus. I looked around the law library, engineering labs, and the Great Hall of Dinosaurs--and if I hadn't graduated from college more than six years ago, I would've transferred to Yale right then. You look down to go back to the gallery wall of images.