Europa Universalis IV requires an empire-building state of mind
It's 1467. Christopher Columbus, son of a Genoan weaver, is barely 16 years old. He's nobody.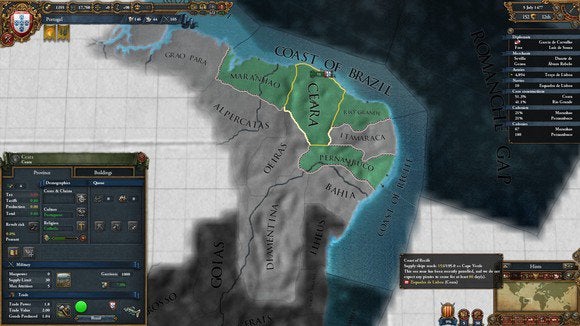 Portugal is first to establish New World colonies.
Also gone are the various domestic policy sliders you used to manage: centralization versus decentralization, land versus naval, and the like. Now you accrue points in three categories--Administrative, Diplomatic, and Military--which you spend on actions like boosting political stability and unlocking technologies. The number of points you get each month is affected by your leader's traits, any advisers you hire, and (in the case of the military) how many leaders you've conscripted.
I'm torn about the removal of the sliders. I miss the granular control they afforded, but I don't miss babysitting those things all the time. After spending some time with the game, I largely think their removal is an improvement and I think most fans will agree. EUIV flows a lot better without constantly fretting over the sliders--and believe me, the game still affords you plenty of control.
To get an idea of how the Europa Universalis team approached this game, I think it's best to look at the way maps are handled. At first glance, EUIV features six map modes. There's a terrain mode, a political mode, a mode focused on trade--basically, the most common modes players will be interested in. Click a button, though, and you'll reveal the other fourteen map modes. Surface-level accessibility quickly gives way to hidden depths.
Turn off, drop out
I didn't play these kinds of games online, but what I saw of the EUIV multiplayer is a pretty huge improvement over previous titles. As always, each player controls a different country, and the game tends to run at a constant speed instead of pausing regularly. The game I played was set to the second-lowest speed (of five) and was still fairly hectic, especially during wartime. Alliances are made, then broken in gleeful fits of betrayal, and the whole thing makes for a fun time that also occasionally incites you to murder your friends.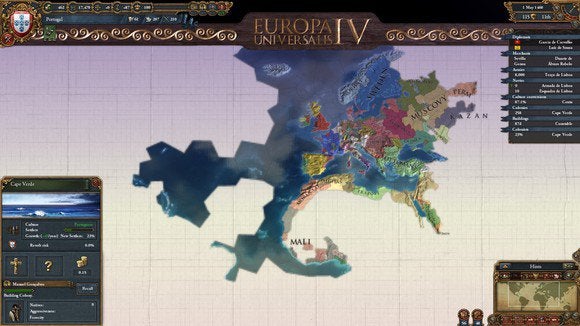 You'll need to hire explorers to remove all that white space from the map.
Paradox has finally made multiplayer a freewheeling drop-in, drop-out affair though, and it's wonderful. Not only will games continue as players drop in and out, but you can drop out and come back as an entirely different country. If you, for example, just watched four other tribes destroy your beloved Golden Horde, you're not relegated to sitting on the sidelines; you can jump back into the fray immediately.
Bottom line
Europa Universalis IV is a much-needed update to a classic PC game franchise. An extremely useful hint system, an efficient production menu, and hugely improved graphics make this (in my eyes) the best Europa Universalis title to date. It's sleek where it needs to be, while still retaining the core complexity that makes these titles so popular.
Previous Page 1 2 3 4 5 Next Page