Editing PowerPoint documents on an iPad
You love your iPad, and chances are good that you need to use Microsoft Office for work. You have lots of options for editing documents created in Microsoft Word and Excel on your iPad, but what about the third major component of Microsoft Office, PowerPoint?
Office2 HD: Byte Squareds $8 Office2 HD lets you change text, formatting, and alignmentbut bizarrely for a presentation tool, it offers neither bulleted nor numbered lists. You can add shapes and graphics, change the front-to-back arrangement of elements on a slide, and set a slides background to an image or a solid color. (The $6 Slide2 HD, from the same developer, includes only the presentation features of Office2 HD.)
Polaris Office: Infrawares $13 Polaris Office offers fairly extensive graphics, formatting, and arrangement tools, but like Office2 HD it lacks an automated way to create bulleted or numbered lists (although imported lists appear correctly), and like Picsel's Smart Office 2, it renders some fonts oddly. Although I could easily add, duplicate, or delete slides, I could find no way to rearrange them.
Quickoffice Pro HD: Quickoffices $20 Quickoffice Pro HD () lets you modify text attributes (including bulleted lists), add images and shapes, and rearrange visual elements, but it doesnt give you a way to change a slides background.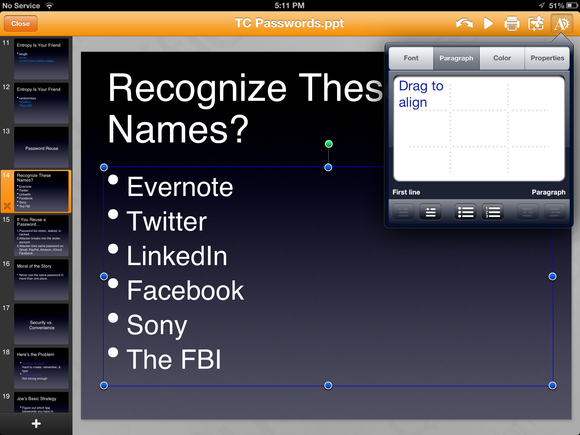 Quickoffice Pro HD offers a reasonable set of tools for editing PowerPoint presentations, although nowhere near as many as Keynote.
Smart Office 2: Picsels $10 Smart Office 2 provides editing capabilities similar to those of Quickoffice Pro HD, but rendered some fonts oddly in my testing.
All these apps are supposed to be able to edit PowerPoint documents without losing formatting. That is, even though the apps dont support all of PowerPoints features, when you send the documents back to your Mac or PC, the documents retain the formatting they had when you imported them. However, I had mixed results with Smart Office 2; some PowerPoint documents I modified and saved to Dropbox didnt open on my Mac at all. Quickoffice is my favorite of these appsbut depending on what you need to do, your mileage may vary.
Use a virtual PowerPoint for Windows
If youre unsatisfied with the degree of PowerPoint compatibility that the foregoing iPad apps offer, how about using Microsoft PowerPoint itself? Although Microsoft hasnt yet seen fit to release an iPad version of its Office programs, several other apps let you connect to virtual Windows servers in the cloudmeaning you can use the full version of PowerPoint for Windows right on your iPad. Apps in this category include CloudOn, Nivio, and OnLive Desktop. See Run Office on your iPad for more details on each of them.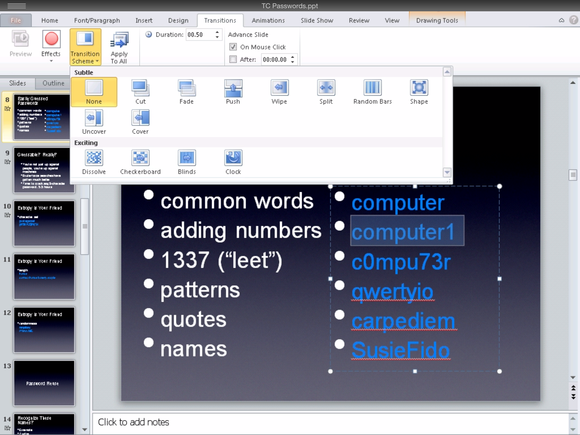 If you need all the power of PowerPoint on your iPad, how about ... PowerPoint for Windows? The full (virtual) version is available in several apps, including CloudOn, shown here.