EA sticking to the franchises it's famous for
There may not have been anything new under the sun for Electronic Arts at E3 Monday, but the company's press conference was packed full of hot games such as Battlefield 4, Need for Speed Rivals, and Plants vs. Zombies Garden Warfare.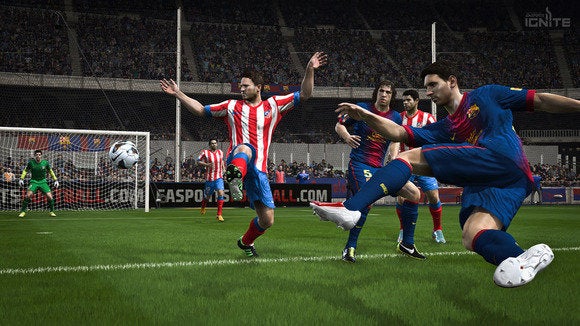 EA. Another year, another version of FIFA from EA. Barcelona figures to be good again.
There were several trailers for games that we would have loved to learn more about, including Star Wars Battlefront, Dragon Age III Inquisition, and Mirror's Edge 2. It's likely that these games aren't far along in development, so we probably won't see them in any playable form until next year's E3.

EAMirror's Edge 2 looks impressive but we didn't learn very much about the game on Monday.
Near the close of EA's briefing, the large TV screens on stage pulled back to reveal 64 people ready to give us a live demo of Battlefield 4's multiplayer mode. While gameplay didn't vary much from previous Battlefield games, the demo did a good job at showing off the game's various particle and lighting effects-both of which drew a number of "oohs" and "ahhs" from the audience. Battlefield 4 is EA's marquee titled at the show, so it's unlikely we've seen the last of this futuristic shooter.