Droid Turbo's long battery life, new tech offset weight
The Motorola smartphone will be available through Verizon Wireless starting at US$199 with a two-year contract.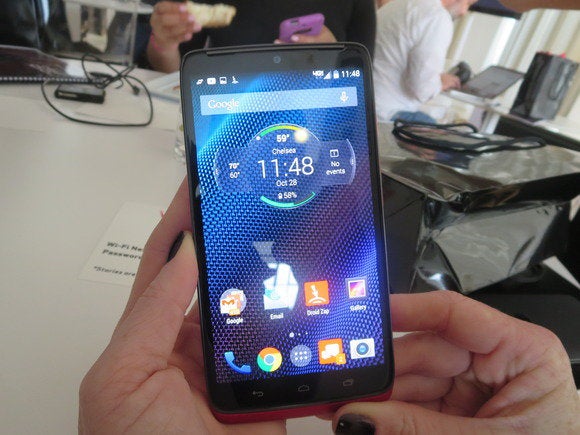 There's a lot to like in Motorola's Droid Turbo, including its 48 hours of battery life and extremely sharp screen.
The Android smartphone has a 5.2-inch screen, but felt slightly heavier than competitive handsets during a hands-on review. Yet, it could appeal to users who need a durable handset with long battery life and the latest technologies.
The Droid Turbo will be available starting on Thursday through Verizon Wireless in the U.S. A base model with 32GB of storage will be priced at US$199 with a two-year contract, and a 64GB version will sell for $249. The smartphone is exclusive to Verizon, and variants won't be sold outside the U.S.
The handset has a slightly curvy back, much like the Moto X devices, and is easy to hold. It has on/off and volume buttons, a USB 2.0 port at the bottom to recharge the smartphone, and a headset jack at the top. The SIM card was built into the handset, and there were no external display connector ports.
The Droid Turbo won't easily crack or break, so don't expect any Bendgate controversy. The smartphone has a solid exterior made of kevlar, which is also used in bulletproof vests. There's also a layer of ballistic nylon, which is used to add durability to wallets and backpacks, and patented "nanocoating" to protect the smartphone from spills. Another new material called metallized glass fiber adds shine to the device.
The smartphone can display images at a resolution of 2560 x 1440 pixels. The benefits of this screen -- which offers more depth than regular 1080p HD -- were immediately noticeable, and 4K video on YouTube looked vivid and bright, with no frozen frames or jitters.
One of the more attractive features is a 21-megapixel camera, similar to the one in the recently introduced Nexus 6. The camera was easy to operate thanks to user-friendly software, and there's also an option to shoot 4K video. Driving the speedy application and graphics performance is Qualcomm's Snapdragon's 805 processor, which is capable of processing 4K video for storage on the handset.
A 64GB model weighs 176 grams, and feels somewhat heavy. By comparison, the recently introduced HTC Eye, which also has a 5.2-inch screen, weighs 160 grams. But size and weight sacrifices had to be made for the thick 3,900 millamp-hour battery, which provides the smartphone with two days of battery life on general use.
The battery life isn't much of an improvement from the predecessor, the Droid Maxx, which was introduced last year and had a 3,500 milliamp-hour battery. But with Droid Turbo, a higher capacity battery was needed to deal with the screen, higher-resolution camera and faster processor, a Motorola representative said.