Digital Storm Krypton: A kick-ass gaming laptop at a great price
Digital Storm's 17-inch gaming portable is big, heavy, and no-frills; but it'll rock your virtual worlds at a great price.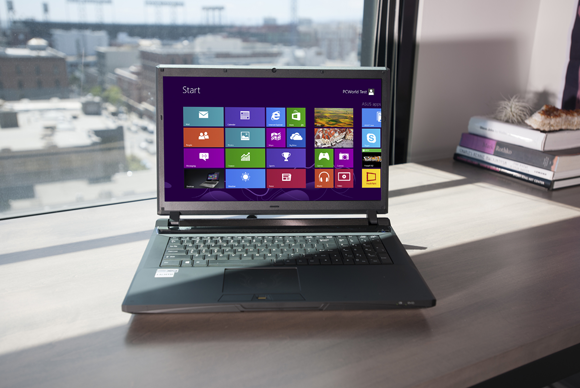 One of the little secrets about boutique gaming-PC shops is that many of them resell the same core OEM laptops after cosmetically customizing them with paint jobs, decals, and sporty-looking panel covers. These firms emphasize the highly tailored nature of their offerings to justify stiff price tags.
Digital Storm is refreshingly different--at least when it comes to price. You can pick up its 17-inch Krypton model S-8298 gaming laptop for $2251--that's almost $1600 less than the similarly configured Origin's EON17-S I reviewed in June.
To be fair, Origin's machine has a more powerful mobile CPU--an Intel Core i7-4940MX Extreme Edition, where the Krypton is outfitted with Intel a Core i7-4810MQ--but as you can see from our benchmark charts, the EON 17-S isn't that much faster on most counts.
In fact, the 2014 Alienware 17 earned a higher Laptop WorldBench 9 score than both of these machines. The $2968 Alienware is powered by an Intel Core i7-4910MQ. All three machines come with 16GB of DDR3/1600 memory, a 256GB SSD, and the same mobile GPU: Nvidia's insanely powerful GeForce GTX 880M, which has an 8GB frame buffer of its own.
If you're looking for a small high-performance gaming PC, don't plan to travel a lot with it, and you're comfortable solving your own hardware and software problems (more on Digital Storm's tech support later), the Krypton is a no-brainer. Now let's see just how much keister the Krypton can kick.
This big laptop's got game
At its native resolution of 1920x1080, the Krypton played every game I tested flawlessly, without a smidgen of lag or pixilation. It delivered BioShock Infinite at a sweet 125 frames per second (with image quality set to medium), hanging tight with the EON 17-S and beating the Alienware by 3.8 fps.
Battlefield 4 pounds harder on both the CPU and GPU, and the Krypton fell behind the EON-17 S and the Alienware 17 on this score. The Origin's Intel Extreme Edition processor really served that machine well on this particular benchmark.
The Lab didn't benchmark the Krypton at 2650x1600, but I hooked up a Dell 30-inch flat-panel (UltraSharp 3008WFP) to its DisplayPort to check out several games at that res, including BioShock Infinite, Battlefield 4, Call of Duty: Ghosts, and Grid 2. They all looked terrific. The destructive realism in Battlefield 4 was breathtaking. Clearly, 16GB of memory is no long ridiculous excess--at least when it comes to AAA games such as Battlefield 4.
Not one for the road
Digital Storm scores a direct hit when it comes to immensely engaging game-playing--at least on the home front. I had a great time hunkered deep in my man-cave with the Krypton, a 30-inch flat-panel, and a high-end gaming mouse. This laptop cruised through non-gaming workloads, too. It chalked up a blazing 116 on PCWorld's Laptop WorldBench 9, and it made short work of encoding high-definition videos. The 750GB mechanical drive that supplements its high-speed solid-state drive (SSD) provided more than enough storage for work and entertainment files.