Digital manufacturing could eliminate warehouses, create on-demand production
As digital manufacturing grows, so do cyber threats to online data.
ORLANDO, Fla. -- As manufacturing industries go digital, products that were once generated via a set of build plans are now created in digital files that can be exported anywhere in the world.
When 3D printing is added to that equation, products are no longer produced in anticipation of orders, but on demand, as needed.
There are, however, existing cultural industry biases -- engineers and designers who are entrenched in conventional manufacturing methods -- that limit the adoption of 3D printing, stifling its full potential.
"What we need in our design organizations is someone who doesn't have those cultural biases [and who says] when we go to design a new part for our spacecraft or rocket engine..., how do we build this with new technology?" said John Vickers, principal technologist for NASA's space technology mission directorate.
Vickers was part of a digital manufacturing panel today at the RAPID Printing and Additive Manufacturing Conference here.
He explained that a liquid rocket engine produced by NASA can cost tens of millions of dollars to build with conventional manufacturing methods; a single component can include more than 300 parts and take from six months to a year to create.
With 3D printing, in some cases, a rocket engine component can be reduced to a half dozen parts and require only three months to build, Vickers said.
"Our aerospace and space products really cost too much and take too long today," Vickers said. "We're really interested in affordability and performance. We like to say we're interested in half the weight, at half the cost, at twice the speed."
Just-in-time manufacturing
In 2014, NASA delivered a 3D printer to the International Space Station for research and development. A month ago, it delivered a second one that will be used to make replacement parts for the space station.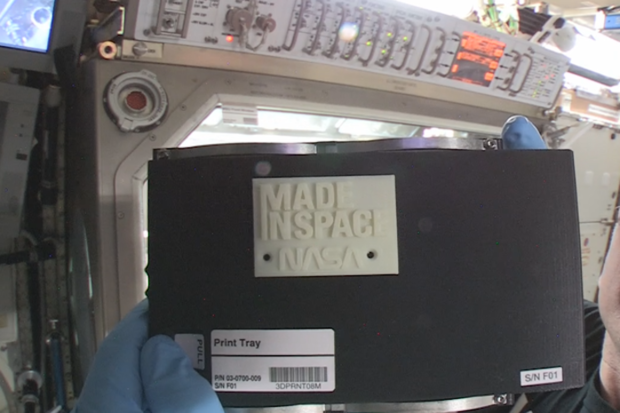 International Space Station Commander Barry "Butch" Wilmore shows off the first object ever created by a 3D printer in space -- a face plate. Credit: NASA
"We're on a long-term journey to Mars at NASA. So our goal for in-space manufacturing...is to not have to take all the supplies with us," Vickers said. "So in-space fabrication and repair is a term we use."
Just as plans for creating parts can be transmitted to spacecraft, digital manufacturing allows stereolithography design (stl) files to be transmitted anywhere in the world.
As 3D printing continues to infiltrate manufacturing, not only will parts be transformed into just-in-time production runs, but sensors embedded in those parts will be able to provide feedback during real-world use to improve quality in the build process.