Desktop land grab: Essential tips for multimonitor productivity
A single display may suffice for basic computing, but multiple monitors make a big difference for heavily graphical work, intensive multitasking--and of course, serious gaming.

With good planning and some work, your multimonitor setup doesn't have to be overrun with cables.
Maximize input ports
Practically all monitors these days come with multiple input ports, including DisplayPort, DVI, HDMI, and VGA. You can use one port for your primary computer, and the others to connect to a nearby server or a test machine. Alternatively, you could connect an Xbox 360 or PlayStation 3 via the HDMI port. Obviously, a video switcher box would do the same thing, but that's an additional piece of hardware to purchase, and it also adds to the clutter on your desktop.
Get software help
Microsoft has steadily tweaked the Windows operating system to work better with multimonitor systems, by introducing a number of noteworthy shortcuts. Using the Windows-Left arrow key or Windows-Right arrow key combination, for example, will dock the active window to the side of the current monitor. Additional key presses will move the docked window to the next monitor, while Shift-Windows-Left arrow or Shift-Windows-Right arrow will move the window to the next monitor without docking.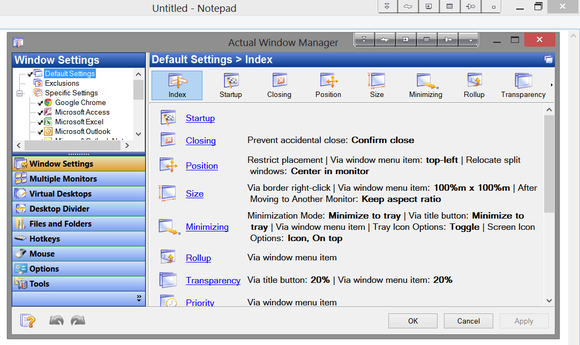 Use a monitor manager to help you work better with your extra screen real estate.
But third-party window managers can still help you navigate across multiple monitors more easily. These programs add features such as creating a taskbar across monitors (for Windows 7 and earlier, since Windows 8 has this built in), remembering the position of app windows, offering shortcuts keys for managing app windows, and more.
Tweak your mouse settings
Finally, you may want to enable mouse acceleration on your multimonitor system. Mouse acceleration significantly increases the speed of the mouse cursor when fast mouse swipes are detected. It's especially useful for moving quickly across multiple monitors. Relying exclusively on a trackpad to navigate a multimonitor system can be a pain, due to the excessive amount of swiping needed.

Finding the mouse cursor can be tricky when you have multiple monitors to check.
Other mouse-related configurations include changing your mouse pointer's size and color to make it stand out more. Finally, consider selecting the 'Show location of pointer when I press CTRL key' option under Mouse Properties > Pointer Options, as well as the 'Snap To' feature to move the mouse cursor to the default option of a dialog box automatically.
Enjoy the view
Once you've worked with multiple monitors, you'll have a hard time going back to a solo monitor. All that space. All those windows open at the same time. As the computing world becomes increasingly graphical, expanding your view will prove well worth the extra real estate on your desk or wall. The most recent port technologies and Windows enhancements make upgrading even easier. Or perhaps you already have two, three, or four displays set up? Let us know how it works for you.