Dashlane is a robust password manager with a gorgeous interface
Dashlane is an powerful and flexible password manager for every level of experience that's also useful for form-filling, expense tracking, and more.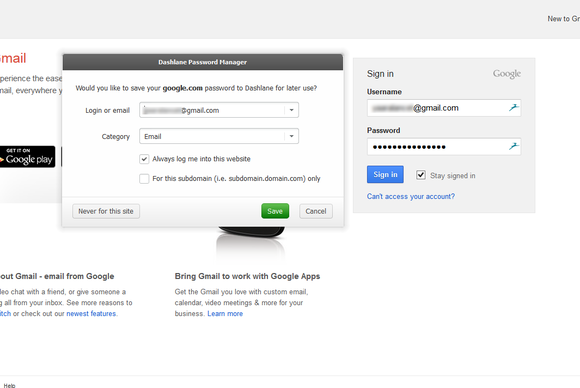 On every new login, Dashlane will offer to automatically save your credentials
You can categorize passwords and other information for easy access, and a small blue impala icon in a browser text field will alert you to the fact that Dashlane can auto-fill this for you. If you have more than one account with a website, more than one email address you like to use, etc., clicking the blue impala will open a dropdown menu where you can choose the desired information.
One of the most important aspects of a password manager is security, and with Dashlane, you can select your level of paranoia. Your database is encrypted with AES-256 encryption, only you know the master password to decrypt it, and you can enable Google Authenticator for extra security. Unlike LastPass, where everything is in the cloud, automatic cloud syncing and backup is a Premium feature in Dashlane, so free users don't have to worry about it.
Even if you're a paid customer, however, you can easily opt out of cloud syncs, meaning your password database is only stored locally, just like with KeePass. Unlike KeePass, though, Dashlane's free mobile apps can be managed as separate databases, so you can access your passwords on the go without worrying about constant cloud syncs. When enabled, Dashlane syncs happen every 5 minutes, and there's no way to control or reduce this frequency.
Dashlane is an impressive password manager with some excellent features and a beautiful interface. It does require a certain amount of trust in the company, especially when using its syncing options, and for $20/year, its Premium version is expensive when compared to the alternatives. Nevertheless, it is the perfect password manager for the less tech-savvy, and even the experienced are sure to enjoy it, if only for the merits of its interface. It's available in Android, iOS, and Mac editions, in addition to the PC edition I reviewed.