Dallas PD turned robot into IED to get sniper
Northrop Grumman builds robot that's used as improvised explosive device by Dallas police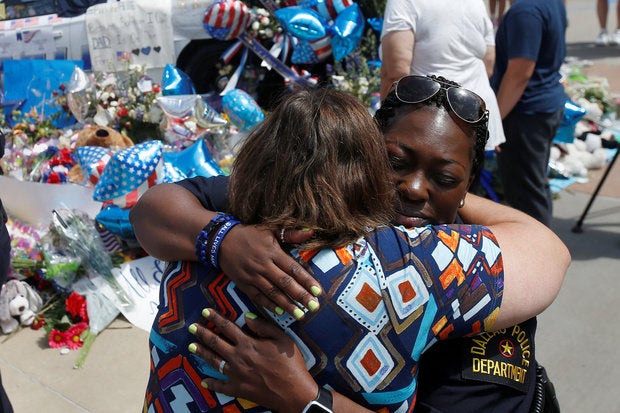 When Dallas police officers were under fire during a deadly sniper attack last week, it was a nearly 4-foot-tall robot that took out the suspected assailant.
It's believed to be the first time that police have used a robot to kill someone, taking the technology from a passive role, such as capturing images or video of a crime scene, to an active and lethal role.
Police used the robot to try to take out the attacker, Micah Xavier Johnson, 25, of Mesquite, Texas, who ambushed police officers working during a peaceful protest in downtown Dallas last week. The sniper killed five police officers and wounded seven others.
Investigators have said Johnson – who reportedly told police negotiators he wanted to kill white officers as payback for recent police shootings of black men -- was working alone.
Dallas police have said the robot was a Remotec Model F-5 built by Northrop Grumman Corp., a U.S. aerospace and defense technology company. Named the fifth-largest defense contractor in the world last year, Northrop Grumman has demonstrated weaponized robots to the U.S. military as tools to back up and defend U.S. soldiers.
There's no evidence that the robot that the Dallas Police Department used during the attack last week was sold as a weaponized machine, however.
A spokesman for Northrop Grumman refused to comment and a spokesperson for the Dallas Police Department could not be reached.
However, the Dallas police have reported that the robot was equipped with an explosive device made up of 1 pound of C4, an explosive used by the U.S. military, along with a detonation cord.
The robot was used as a "last resort," according to police.
The remote-controlled, unmanned robot, can climb stairs because it moves on tracks, along with wheels. At nearly 4 feet tall, the robot weighs 790 pounds and can move at a top speed of 3.5 mph. It is equipped with an arm and gripper "hand" that can lift up to 145 pounds close to its body and 60 pounds with the arm extended.
It also is equipped with a camera, microphone, speaker and video-recording device.
In an interview on CNN on Sunday, Dallas Police Chief David Brown said the decision was made to take out Johnson using the robot and an explosive because the department was trying to prevent him from killing more officers.
Johnson was in a gun a fight with police and in a position where they could not see him, according to Brown. The police chief said he was in contact with on-scene SWAT team negotiators while Johnson was taking refuge on the second floor of a college building.