Could Tesla Energy's batteries blow up Elon Musk's company?
The new batteries are already sold out through first half of next year.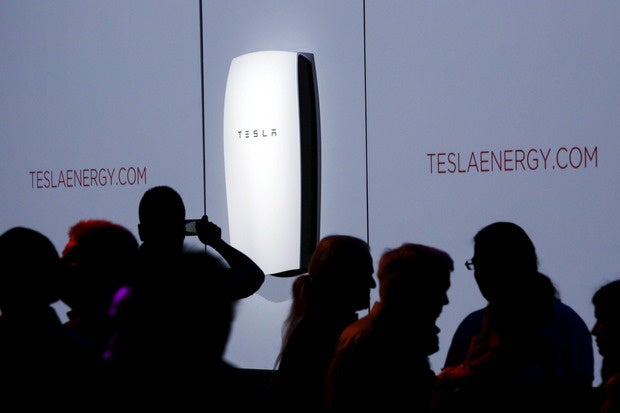 Attendees take pictures of the new Tesla Energy Powerwall Home Battery during an event at Tesla Motors in Hawthorne, Calif. on Thursday. Credit: REUTERS/Patrick T. Fallon
Tesla CEO Elon Musk is no stranger to risky but successful ventures. He's helped found companies such as PayPal and other leading edge tech firms, including an aerospace manufacturer to help colonize Mars.
So when Musk last week unveiled Tesla Energy and its line of lithium-ion batteries to power homes and businesses, the reaction from investors and shareholders was positive.
Tesla, however, is not yet profitable. And as the company works to get in the black, Musk plans to invest $10 billion to build Gigafactories to make the new batteries.
"The market has bought into [Musk's] story. His story is, 'We're going to grow quickly, we'll continue to invest back into the business, and while we have a high capital cost business, it will eventually be profitable,'" said Brian Buchwald, CEO of Chinese market data firm Bomoda. "So his challenge is, what if Tesla doesn't continue to grow quickly? Then he's going to be in trouble.
"And, right now they're losing a ton of money," he added.
Tesla's market cap is $29 billion. Last year, the company did $3.2 billion in revenue with a net loss of $294 million.
On Wednesday, Tesla reported first quarter earnings of $1.1 billion, with a GAAP net loss of $154 million, or $1.22 a share. Analysts had expected sales of $1.04 billion for the quarter, after $713 million a year ago. As a result, the electric carmaker's share price rose 2% on the narrower-than-expected loss.
Musk has said Tesla will not be profitable until 2020.
It's not unusual for start-ups to remain unprofitable for years as they build a market base. Musk now plans to initially invest $5 billion in the Gigafactories, which will manufacture the new stationary battery line for newly formed Tesla Energy.
It's an enormous gamble, Buchwald said.
Last week, Tesla unveiled two versions of the Powerwall -- a 7kWh ($3,000) module for daily use and a 10kWh ($3,500) pack that's being pitched as a backup system. A commercial battery, called the Powerpack, will hold 100kWh of power and sell for $25,000 each. The batteries are designed to store electricity when it's cheap and release it when it's costly during peak use hours. The batteries could significantly cut electricity costs for homes and businesses, especially when combined with a solar power system.
During the first quarter earnings call, Musk said Tesla Energy has already taken more than 35,000 reservations for the Powerwall battery, and 2,800 for the Powerpack from businesses.