Choosing the Android phone that fits your life
You've decided that you want a new Android phone. Now what?
Your contract is up, you have a couple of C-notes in your pocket, and you've carried the same phone since Bush was in office. Sounds like it's time for an upgrade! You settle on Android as your mobile operating system of choice, but with so many Android phones to choose from, picking the right model is an intimidating task. After all, you want a phone that fits your life.
Whether you're sporty and you like to spend the weekends getting sweaty and dirty, or you're just sick of having to charge your phone by 2 p.m., there's an Android phone for every lifestyle.
For the photographer

If your phone contains more photos than a year's worth of National Geographic issues, consider the Samsung Galaxy S4. Aside from the powerful processor, nice screen, and countless software extras, the Galaxy S4 also features an impressive 13-megapixel camera that performs well in just about any situation. The camera software in the Galaxy S4 includes a good variety of shooting modes, and the phone makes editing and sharing your photos via social media or email easy. Unlike most other phones, the Galaxy S4 allows you to add storage via a MicroSD card, so you'll never have to worry about running out of space for all your snapshots.
For the power user

Remember the good old days, when cell phones could go an entire week on a single charge? While we don't know of any smartphones capable of the same feat, the Motorola Droid Maxx is probably the closest we're going to get: It can go for a full two days of mixed use on a single charge (give or take a few hours). If you're set on marathoning the final season of Breaking Bad on your phone, you'll be happy to know that the Droid Maxx produced over 13 hours of continuous video playback in our lab's battery tests. In other words, you could watch a whole season of Walter White cooking meth before you have to recharge your phone.
For the iPhone switcher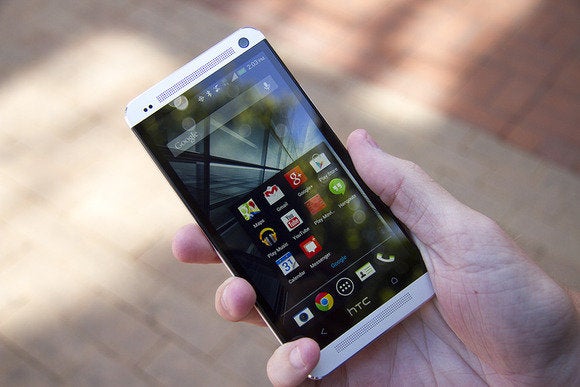 Aesthetics and build quality are the most important things in the world to you. Previously you went with the iPhone because you loved Apple's eye for design, but for one reason or another you had a falling out. Not to fear: The HTC One is a stellar phone for people who want not only solid performance but also great looks. The One offers a superb design and a screen that looks sharper than the Retina display on the iPhone. To make your transition between operating systems even easier, HTC includes a transfer tool that helps you import your contacts and files from your old phone to your shiny new One.