Char-Broil Simple Smoker review: Better than any barbecue (but the app sucks)
It doesn't entirely live up to its promise to take the guesswork out of smoking your food, but the results are delectable nonetheless.
The other components
The Simple Smoker consists of a barrel-shaped enclosure that's about 27 inches high, including its domed, hinged lid. A stainless-steel cooking chamber 11-inches in diameter sits inside of this, and a roaster basket big enough to cook a 16-pound turkey fits inside that. Two wire half-shelves can be hung inside the roaster basket (at staggered levels, if you choose) for smaller cuts of meat or whole chickens, and there's a second roaster basket that can sit on top. The top one is particularly well suited to cooking vegetables, since it's farther from the heating element.
Char-Broil's user manual issues a number of warnings about where the smoker should be located when in it's use: Not under a roof, not under an eave, at least 24 inches from any wall or railing.... It also discourages you from using an extension cord, a recommendation you might find difficult to follow given the smoker's short 5-foot power cord.
Finding the ideal outdoor location for the smoker could compromise its ability to reach your Wi-Fi network, too. Using Wi-Fi is superior to relying on Bluetooth, because your phone doesn't need to be near the smoker for the app to function. But both your phone and your smoker must be within range of your Wi-Fi network. My Wi-Fi access point is in the center of my home, and I have a lot of outdoor electrical outlets, so I was able to find a spot for the smoker on my back porch that was well within range of both my AP and an electrical outlet.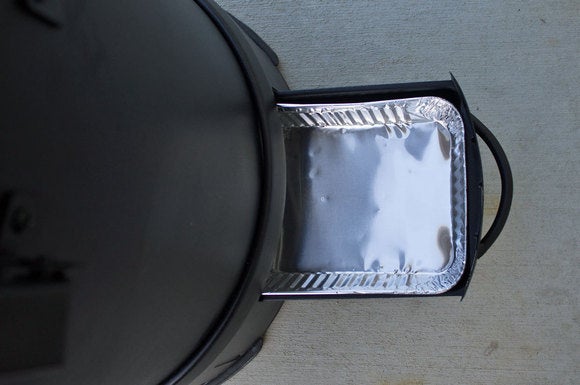 This flimsy aluminum-foil grease tray is one of the more disappointing elements of the Simple Smoker's design. On the bright side, the drawer it fits inside is made of stronger stuff. Credit: Michael Brown
Cleanup and storage
Even if you follow Char-Broil's instructions and wipe the roaster basket and the walls of the removable cooking chamber with oil before each smoking session, the Simple Smoker can still be difficult to clean. A self-cleaning setting that super-heats the interior in an effort to turn the food residue into a crust that can be knocked loose with a stiff brush brush helps. On the one hand, the cleaning cycle is no more effective than what you get with the typical self-cleaning oven. On the other hand, I found the smoker easier to clean than my gas grill.
Char-Broil recommends covering the smoker if you plan to leave it outside, but it doesn't offer a purpose-built cover even as an added-cost accessory. Given that it's an electric appliance, I wouldn't advise leaving it out in the rain even it is covered. A pair of handles on either side make lifting the 31-pound appliance a little easier.
Previous Page 1 2 3 4 5 Next Page