Char-Broil Simple Smoker review: Better than any barbecue (but the app sucks)
It doesn't entirely live up to its promise to take the guesswork out of smoking your food, but the results are delectable nonetheless.
But after I'd let the meat rest on the counter under a foil tent for 15 minutes, sliced off a piece, and bit into it, I thought I'd died and gone to heaven. It was the most tender, juicy, delectable piece of tri-tip I'd ever eaten, with an amazingly flavorful crust all around the outside. Just remembering it makes my mouth water.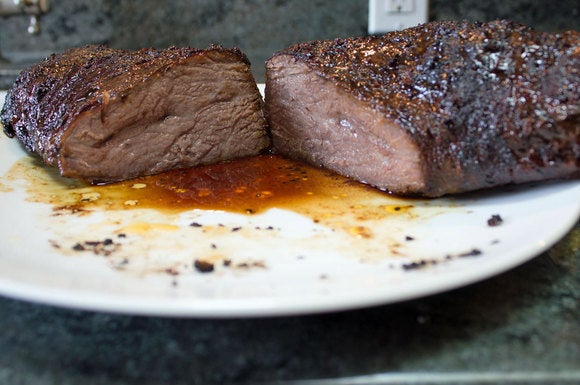 You can barbecue a tri-tip much quicker, but you won't get nearly as much flavor as when you smoke it. The meat off a grill won't be nearly as juicy,either. (That's not marinade; that juice didn't appear until I cut into the meat.) Credit: Michael Brown
After that experience, my wife and I decided to try turkey; but since the two of us can't polish off an entire bird, we bought a package consisting of a partial breast and two legs. The app doesn't take such portions into account, so we looked up the USDA-recommended internal temperature for turkey meat, stuck the probe into one of the legs, and used the pork-ribs setting. Although we had to monitor the temperature-probe readout carefully, the results were every bit as satisfying as they were for the beef.
Over a period of several weeks (we used the smoker only on weekends), we prepared fresh wild salmon steaks, baby back ribs, chicken wings, pork loin chops, and another tri-tip. We got outstanding results each time, despite having to make some educated guesses about how and how long to cook things. The temperature probe—always placed in the thickest part of the meat—was critical to our efforts in each case. You can use the app to adjust the food's internal target temperature and the smoker's cooking temperature (from 125 to 525 degrees Fahrenheit), but you can't program its cooking time and the app doesn't recalculate cooking times when you change the other parameters.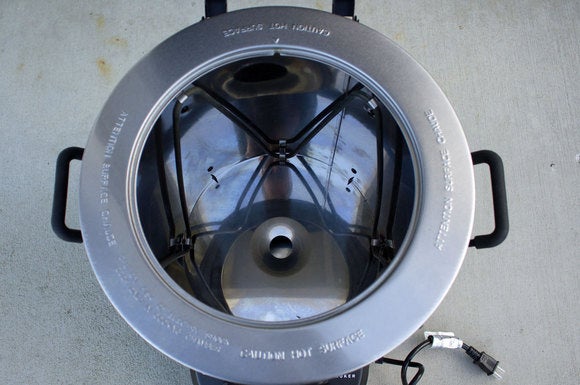 Traditionalists might grumble at the notion of using infrared heat from an electrical element, but I couldn't care less. The meat was fabulous. (Note: I removed the cooking chamber for this photo.) Credit: Michael Brown
As a result, I found myself monitoring the app much more than I think should have been necessary. In addition to providing more recipes, it would be great if the app could be programmed to chime when interim temperatures are reached, so you'd know when it was time to start preparing side dishes. As it stands, it's incumbent on you to keep an eye on the app so you're not surprised when it chimes to inform you the meat is cooked.
Previous Page 1 2 3 4 5 Next Page