Char-Broil Simple Smoker review: Better than any barbecue (but the app sucks)
It doesn't entirely live up to its promise to take the guesswork out of smoking your food, but the results are delectable nonetheless.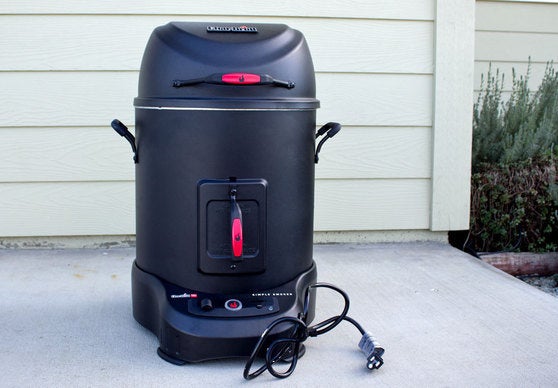 If you love smoked meat, but have been intimidated by the prospect of tending the coals in a barbecue pit for hours on end, you'll want to check out Char-Broil's Simple Smoker. This electric cooker has a meat probe and it communicates with your smartphone via your Wi-Fi network, so you get perfect results with zero fuss. But the Simple Smoker has one major weakness that Char-Broil should and could easily fix: The smartphone app that controls the smoking process is abysmal.
Fortunately, the app's shortcomings don't prevent me from giving the smoker itself a buy recommendation. The core of the Simple Smoker's appeal is its ability to almost automatically slow-cook food while imparting delicious smoke flavor from smoldering wood chips. If the app worked as advertised, you could start the multi-hour process and walk away, with the app issuing a reminder every 45 minutes to replenish the supply of chips and then informing you when the process is complete. In that respect, the app is as key to the smoker's value as its meat probe, but its many shortcomings never resulted in a poorly cooked meal—because aside from the probe readings, I didn't trust the app from the get-go.
I don't like starting a positive review by focusing on the negative—especially when my overall opinion is positive—but the reason I found the app suspect was that it had so few recipes. When you're ready to start cooking, you click on Choose Food in the app. This brings up four categories of meat: Beef, chicken, pork, or turkey. There are no settings for vegetables; more importantly, there are no setting for any variety of fish. In fact, each of the four meat categories that are included has just two subcategories at most: Beef brisket or prime rib; a whole chicken or just the wings; baby back ribs or pulled pork; or a whole turkey.

As you can see from these three screenshots, Char-Broil's app looks like an afterthought, even though it's integral to getting good results from the smoker.
I decided beef would be the most foolproof food to start with, since eating a good cut of rare beef is less dangerous than consuming undercooked pork or poultry. I wasn't about to experiment with something as expensive as a prime rib, so I decided to give brisket a try. But then I discovered that my local grocery store doesn't stock brisket (I'd have to special order it, so the butcher suggested tri-tip as a substitute). I brought home a three-pound chunk, seasoned it with my favorite dry rub, and put it in the fridge overnight.