Can this music app boost your brain power? Neuroscientists aren't so sure
Focus@will claims that its music playlists make users more productive and increase attention span by 400 percent with long-term use.
We're all familiar with the 3 o'clock slump: the time toward the end of the workday when your mind gets fuzzy, and concentrating is nearly impossible. While some people reach for another cup of coffee to combat fatigue and avoid another Buzzfeed black hole, other people believe that there's a better, caffeine-free way to boost concentration: music.
"I knew that people instinctively liked to listen to music while doing work," says Will Henshall, founder and CEO of neuroscience-based music service Focus@will, "[so I] started to look into the neuroscience of what's happening in your brain while you're trying to concentrate."
Focus@will claims that its music playlists make users more productive and increase attention span by 400 percent with long-term use. Similarly, a playlist on Rdio promises that its fast-tempo tunes will boost energy and enhance workout performance, according to certain psychological studies. But as for how and whether such things actually work to boost focus, the science yields mixed results.
Get into the groove
Essentially, Focus@will is a music player that features instrumental playlists designed to "set and forget," available through your Web browser or via a mobile app on iOS and Android devices.
"About 50 percent of all music consumption happens while people are at work," says Henshall. "We have found that listening to existing music you like or love is distracting because it's designed to move you."
Along with a team of researchers, Henshall, a musician and entrepreneur, found that most people on average could concentrate for stretches of only 20 to 40 minutes before needing a break. People working or studying also require about 20 minutes to acclimate to their environment enough to focus on the task at hand, a process known as habituation.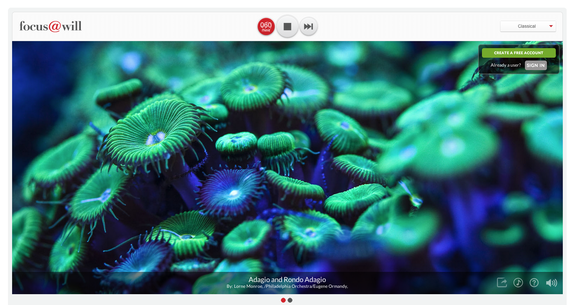 Focus@will serves up soothing images and uninteresting music to keep you from getting distracted
Focus@will uses phase-sequenced music to influence how the brain habituates, playing instrumental pieces with specific characteristics such as musical key, intensity, speed, and arrangement to hasten the cycle of habituation and improve long-term focus. Developers created seven musical channels featuring classical, ambient, cinematic, and up-tempo works that have been highly edited not to elicit emotion. (Curiously, Focus@will has no jazz panel, as jazz demands attention and many of its instruments sound like a human voice, Henshall notes.)
"The goal is to trick your brain into habituating. We make very, very subtle changes to the stream so you don't notice, and it nudges you just enough so the subconscious keeps listening," Henshall says. "Over six weeks, you develop Pavlovian conditioning and Focus@will puts you into a focus state faster."
A study conducted at Fu Jen Catholic University in Taiwan shows that background music influences user attention based on how much the listener likes or dislikes the music playing. Based on this finding, Focus@will selects music for its database that doesn't excite or move listeners. Users can press a Skip button, should they have a strong reaction to a particular piece.