Can Elon Musk's battery really cut your power lines?
Is lithium-ion the right technology?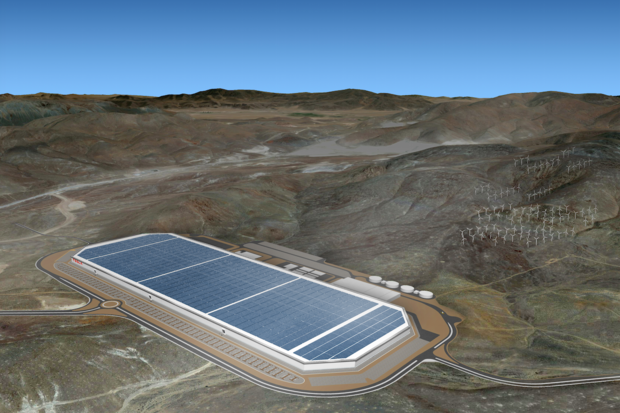 Tesla's first Gigafactory is under construction outside of Reno, Nevada and it will produce 500,00 lithium-ion batteries per year. It will also run completely on solar power stored in batteries. Credit: Tesla
To eliminate the world's dependency on fossil fuel-generated power, all you need is two billion of Tesla's new commercial-grade battery systems.
That was part of Tesla CEO Elon Musk's message last week, when he announced a new line of batteries for households and businesses, which will allow distributed electrical storage from renewable sources like solar power.
Sounds crazy, right? However, as Musk pointed out, the area needed to power the entire globe with photovoltaic panels would be less than 1% of the U.S.'s total land mass, and most of that could be deployed on rooftops.
According to a 2008 analysis by the National Renewable Energy Laboratory, supplying all of the U.S.'s electricity needs with photovoltaic solar energy would require roughly 0.6% of the country's total land area or 1,948 square feet per person.
"Actually very little land is needed to get rid of all fossil fuel generation in the United States," Musk said. "It's really not much. You won't need to disturb land. You won't need to find new areas," Musk said.
Dean Frankel, an associate at Lux Research, calls Musk correct "on the fundamentals."
The sun generates enough solar energy on the earth's surface every hour to meet the world's total annual energy consumption. So there's more than enough energy to harvest.
To further illustrate the viability of using battery storage to supplement renewables during off hours or inclement weather, Musk keyed in on Tesla's current main product: cars.
The number of vehicles on the world's roadways, he said, total about two billion, the same as the number of batteries needed to power the globe's energy needs.
"And, every 20 years that [two billion vehicles] gets refreshed," Musk said. "This is actually within the power of humanity to do. ... And, it's something we're obviously starting to do with Gigafactory."
Tesla's first battery "Gigafactory" is under construction outside of Reno, Nev.; it is expected to go online next year and produce 500,000 lithium-ion batteries every year.
Tesla's battery systems include two consumer-grade batteries -- the Powerwall line -- that store 7 kilowatt hours (kWh) and 10kWh worth of power and cost $3,000 and $3,500, respectively. A third battery system for commercial use is called the Powerpack; it can store 100kWh and will sell for $25,000.
Up to nine Powerwall batteries can be connected on either an outside or indoor wall, for up to 90kWh of power. For their part, the Powerpack systems are limitless in their scalability, Musk said; with enough of them, you could even power a small city, he claimed.