Building better slideshows on your iPad
How to connect iPhoto with iMovie to create polished, professional-looking sequences of slides on your tablet.
Viewing the finished product
Even though you can watch your slideshow right there in iMovie's working area, a better experience is waiting for you in Projects view. You can return there by clicking on the star icon that's next to the question mark icon at the top of the interface.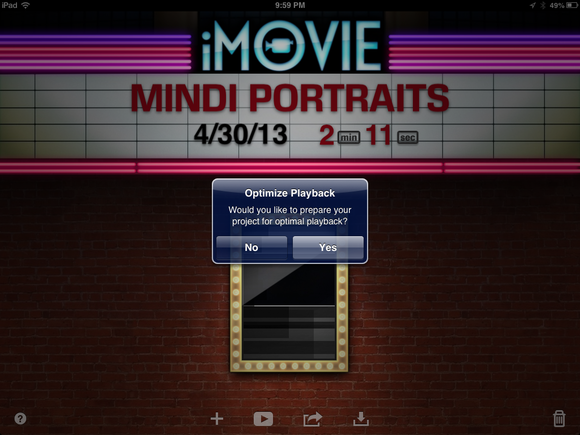 Optimized Viewing-Optimize the playback and enjoy a full-screen presentation of your slideshow.
In Projects view, tap on the play button. iMovie will ask you if it's OK to optimize the video. I recommend that you click OK. After a minute or so, you'll be treated to a full-screen, high-resolution presentation of your slideshow.
Sharing your presentation
Now it's time to share your work with the world. While still in Projects view, tap on the Share icon. You might want to save the presentation to your Camera Roll, since that's the centralized database for imagery on the iPad. iMovie will ask you to choose an export size ranging from Medium (360p) to Full HD (1080p). I usually choose 720p for my iPad mini.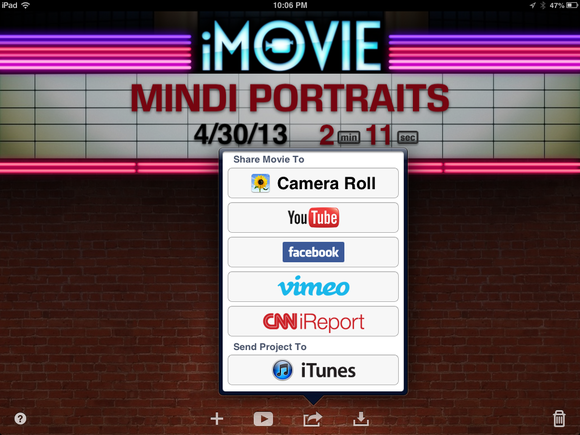 Sharing-Lots of options are available by tapping on the Share butt
I also like publishing to YouTube, which is another option in the Share menu. iMovie will ask you to sign in to your YouTube account, then add tags, a description, and movie size. Once everything is in order, the video will be uploaded. Other sharing options include Vimeo, CNN iReport, and Facebook.
You can watch the slideshow I created on the iPad mini for this article here:
Final thoughts
Once you've created a slideshow in iMovie for iOS, you realize just how powerful this mobile software is. And it makes a wonderful companion to iPhoto for iOS. You can organize and edit images in iPhoto, and then build your presentation and share it with the world from iMovie. That's quite a production team (for less than $10).
Previous Page 1 2 3