Building better slideshows on your iPad
How to connect iPhoto with iMovie to create polished, professional-looking sequences of slides on your tablet.
So you've fine-tuned a collection of images in iPhoto for iOS—now you can create a polished slideshow with them by tapping the power of iMovie on your iPad. Why would you want to do this when iPhoto already provides you with eight different slideshow styles to choose from?
I move over to iMovie to create my presentations for two reasons. First, I have more control over authoring the video, as you will see in a minute. And second, I can easily share the finished product online to YouTube and other social sites. Plus, it's an easy workflow.
Selecting images in iPhoto for iOS
Once your pictures are in good shape in iPhoto, choose up to 25 images to share with iMovie. In iPhoto, tap the Edit button in the upper-right corner. Tap the Gear icon in the lower-right corner, and choose Select Multiple from the pop-up menu. You can tap on individual thumbnails to select them, or use the Range button at the top of the interface. Then tap the Done button in the upper-right corner.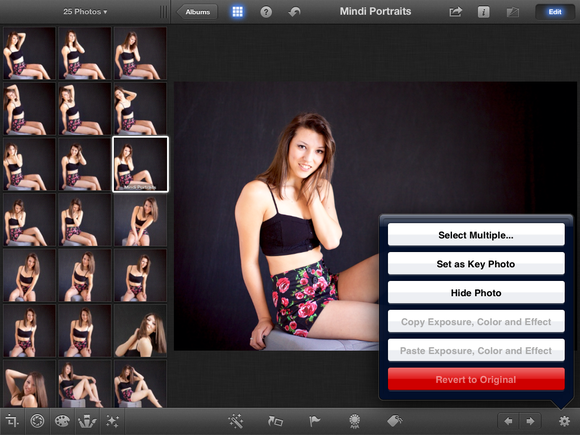 Select Multiple-Select up to 25 images to share with iMovie for your presentation.
Sharing images with iMovie for iOS
With all of the images selected, tap the Share button in iPhoto. Choose iMovie from the pop-up menu. iPhoto will want to confirm your choice. Tap on Selected in the following menu. iPhoto will then share the images with iMovie and switch to that application.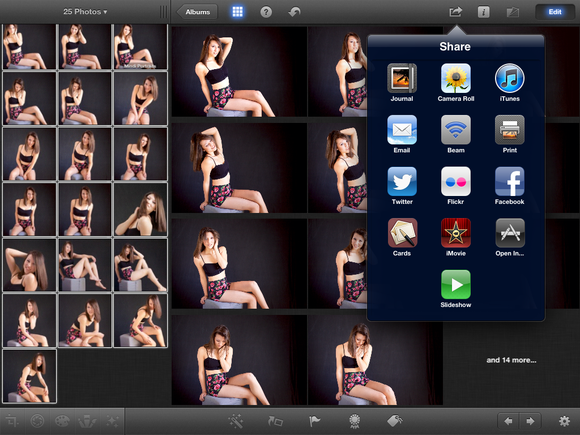 Choose iMovie-In the Share menu, tap on the iMovie (starred) icon.
Fine-tuning the slideshow in iMovie
When iMovie opens, it will ask if you want to create a new project, or select an existing project to which to add these images. More often than not, you'll probably tap on New Project. iMovie will then create the new project, open it, import the photos, and place them on the timeline.
You'll see your pictures on the timeline, and most likely iMovie will have selected a theme for you. Tap the Gear icon in the upper right corner to choose the theme you want. At this point, I also turn off the Theme Music. I want to put my own tunes to these images. If you haven't used the theme music to death yet, go ahead and leave the switch in the ON position. By doing so, you can skip the next section.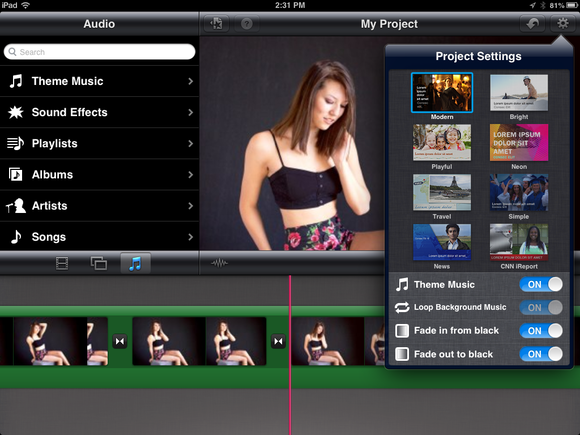 Project Settings-Choose your theme and decide if you want to use its accompanying music track too.