Build the ultimate Windows 8 home-theater PC for under $500
Forget about Roku, Chromecast, or any other set-top trick: The best way to control your home theater is still with a PC. Here's how to do it for cheap.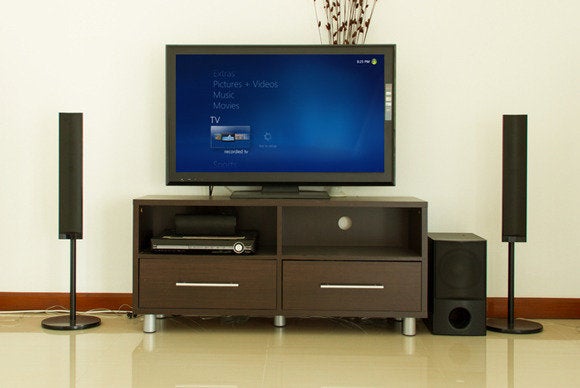 It's true: The best way to control your home theater is still with a PC. Forget all the hype about Google Chromecast and other assorted set-top boxes, dongles, and other gadgets. None of them can organize and play movies, music, and TV shows as well as a home-theater computer. A good HTPC can even take the place of your cable box and DVR.
While you could slide your old desktop over to the flat-screen and call it a day, you'll get way better results with a computer built specifically for the purpose--and it doesn't have to cost a fortune. In this article, we'll show you how you can build a home-theater PC that will play anything, stream anything, and record live TV, for as little as $500.
Here's what you'll need.
Gearing up
A dedicated HTPC doesn't need much in terms of actual computing power. Any off-the-shelf PC from the last several years would work fine. Keep in mind, however, that a great HTPC will be small, quiet, and power-efficient--not qualities that you tend to find in many secondhand computers. To build one from scratch, you can save a ton of money by purchasing modest, inexpensive components. For example, the following system has plenty of power for an HTPC, and a case that will look great under your TV, for just $385 (current prices on Newegg).
$70 -- AMD 5400K Dual-Core CPU with integrated graphics
$65 -- Asus Micro ATX Motherboard
$40 -- G.SKILL 4GB Memory
$60 -- Silverstone MicroATX HTPC case
$50 -- 500W Silverstone power supply unit
$100 -- 2TB Toshiba hard disk drive
Total hardware price: $385
Of course, if you want to watch Blu-ray discs or DVDs, you'll need an optical drive capable of reading that media, so plan to add another $50 for one of those. I recommend this inexpensive LG Blu-ray drive.
To tune or not to tune
That leaves just one final, optional expense: a TV tuner/video-capture card
The main piece of hardware that sets an HTPC apart from any old computer is the TV tuner or video-capture card. This is the hardware that takes a television signal, decodes it, and lets you watch or record it on your computer. And no pressure, but buying the wrong one can leave you unable to watch the shows you want. Here are your options:
With a basic TV tuner, you can connect your coaxial cable line directly to the tuner card, and watch a number of channels for free. These channels, broadcast as ClearQAM, generally consist of the broadcast networks and a few other public-access and local channels that are made available unencrypted over the cable line. If that's all you want, you can find perfectly serviceable tuner cards for very reasonable prices. Internal cards, such as the Hauppage WinTV HVR-1250, need to be installed in an open PCI-E slot in your computer. If you don't have a spare slot, or you're using a laptop, you can use a USB tuner, such as the WinTV HVR-950Q. Both of these cards should run you around $70, and they each come with a remote control.