Build a hellacious PC with Intel's Devil's Canyon and AMD's dual-GPU graphics monster
Combining Intel's fastest processor with AMD's beefiest graphics card melted our faces--in both gaming performance and sheer power usage. Join us as we build the beast.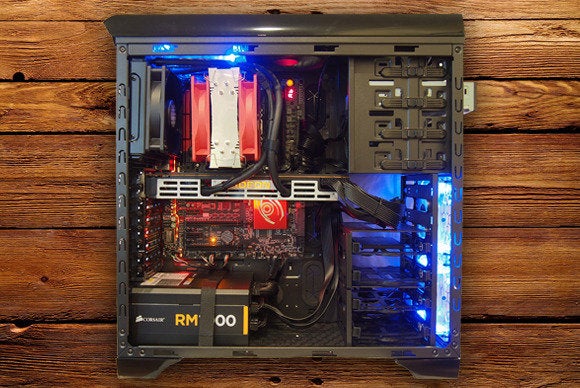 The inevitable march toward greater and more glorious PC performance continues unabated. Earlier this year, Intel released the Core i7-4790K, a quad-core beast that lays claim to being the company's first-ever 4GHz processor, with clock speeds that can leap to 4.4GHz when needed. Even Intel's latest fire-breathing Haswell-E "Extreme Edition" chips can't claim that!
What's more, Devil's Canyon chips sport redesigned packaging materials and new high-performance thermal paste, among other power-tweaking features. In other words, this puppy is built to game like a pro and overclock like a champ.
After building yesterday's outrageous Haswell-E system, we were left wondering: What if you wanted to spend a similar amount on a rig revolving purely around PC gaming, with no need for Haswell-E's eight hyperthreaded cores? Ditching that $1,000 processor and swapping in the $340 (and higher-clocked) Core i7-4790K leaves you with a lot of extra money to spend on visual firepower.
While our Haswell-E build featured the Nvidia GTX 980, the most powerful single-GPU graphics card available today, the savings incurred by using Devil's Canyon allowed us to upgrade to even more potent graphics hardware: AMD's R9 R95X2, a ludicrously potent video card powered by not one, but two discrete high-end graphics processors.
This ought to be fun. Buckle up and get ready to bask in our latest loving example of the type of glorious gaming excess only possible on PCs.
Since we already had the 4GHz Core i7-4790K processor pegged for this build, choosing a motherboard was easy. We knew we wanted a board based on Intel's latest Z97X chipset that cut zero corners whatsoever. Gigabyte's Z97X-Gaming G1 WiFi-BK seemed to fit the bill perfectly.
This motherboard is pricier than most other Z97X-based products, but Gigabyte goes the extra mile by packing the Z97X-Gaming G1 WiFi-BK with a Killer NIC, Creative Labs audio, a host of overclocking-related features, and the highest-quality caps and chokes. The company even includes a ton of accessories, like braided SATA cables and a wireless adapter. Gigabyte also goes so far as to burn in these motherboards with an overclocked CPU to ensure reliability and stability. Boards that don't pass muster never make it out to retail. Few Z97X-based motherboard are as hardcore as the Z97X-Gaming G1 WiFi-BK.
To allow the Core i7-4790K to stretch its legs when playing games, we paired the processor to AMD's afoementioned ultra-powerful Radeon R9 295X2. The Radeon R9 295X2 features a pair of AMD Hawaii-class GPUs, 8GB of memory, and a custom, closed-loop water-cooling system that allows the GPUs to be clocked as high as 1,108MHz. (Fans alone won't cut it with this beast!) The end result is a single graphics card that's more powerful than a pair of Radeon R9 290X cards running in CrossFire. The sticker price is just as astronomical as this card's performance, but the Radeon R9 295X2 is an excellent dance partner for Devil's Canyon.