BMW M2 first drive: Exhilarating, tossable, and thoroughly driver-full
Let's hit pause on the driverless tech discussion. The BMW M2 uses hardcore German engineering to form a blockade against the forward march of robot-driven cars.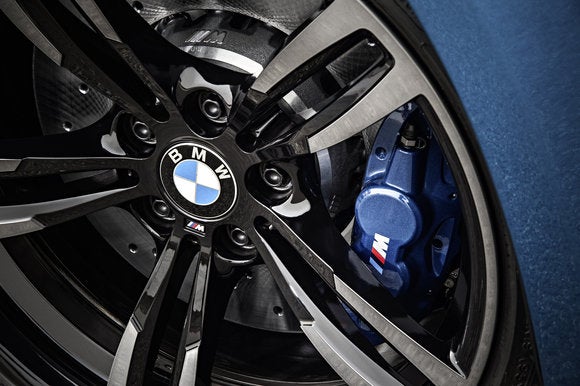 Four-piston calipers on the front axle slow down 19-inch aluminum forged wheels and Michelin Pilot Super Sport tires. Credit: BMW
Regardless, however stoic it may be in outward emotion, the turboed inline six in the M2 is much, much more tractable on the track. And tied to BMW's M DCT seven-speed shifter, the M2's gear changes felt instantaneous, with perfect Formula 1-style throttle blips on downshifts.
A hedge against the future
Unlike the 1 Series M Coupe from 2011, we can expect BMW to make more than 740 cars for the North American market. In fact, according to one source, the M2 will have a production run from 2015 to 2020. This means you would have at least five years to gather up your funds, and invest in a true driver's car.
If you decide to purchase the M2, I suggest you only drive it to, on, and from race tracks. Beyond that, keep it garaged, and in the most pristine condition possible. It's a marvelous track toy, and 50 years from now, when the rest of America has abandoned automobiles for road-going gondolas, you'll still have one of history's funnest (and most flickable) cars.
Previous Page 1 2 3 4 5