BMW M2 first drive: Exhilarating, tossable, and thoroughly driver-full
Let's hit pause on the driverless tech discussion. The BMW M2 uses hardcore German engineering to form a blockade against the forward march of robot-driven cars.
Or at least that was my experience. I frequently found myself losing multiple car lengths to Auberlen (maybe he had tossed aside the newspaper he was probably reading), and to catch up, I put down full throttle on corner exits way earlier than I would have in another car on another day. But this is when the M2 comes alive. The Dynamic Stability Control light flickers on the dashboard, and the car gets a bit slippy... but forward it scoots.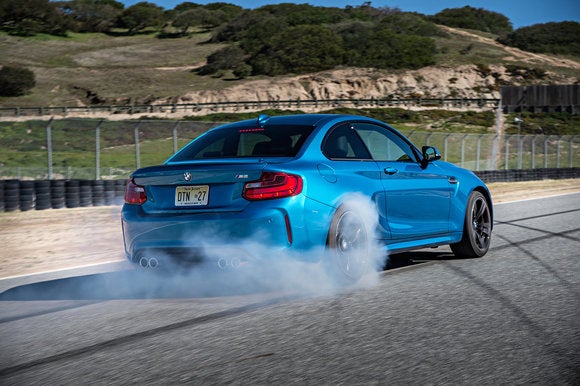 The M2 has a "smokey burnout" mode (yes, it's called that) to provoke lurid levels of wheel slip on take off. And, no, I'm not driving the car in this photo. Credit: BMW
It's a cliche, but the M2 behaves like it wants to be driven hard. And for me, even as a tech journalist, this is a more interesting technology story than any autonomously driven hoo-ha. And you have to smile at BMW's marketing material, which promises "moderate, controlled drifts," while "active safety aids can still be relied on in critical situations." MDM is a nanny control I could really learn to love, especially because my 2005 Lotus Elise—perched on its toy-car wheelbase and completely devoid of any driving aids save ABS—thinks snap oversteer is a feature, not a bug.
Wanting for higher revs
All its hooligan tendencies aside, the M2 is still a scampy goer when driven with a smoother right foot. The steering lightens up nicely at speed, and the car changes direction with willing enthusiasm on Laguna's slower corners. Trail-braking turn 2 and dialing in a bit of rotation via a throttle lift is exactly what this car was designed for. Weight transfer is balanced, predictable, and outright beautiful. Indeed, if your current car is much more "slow-in, fast-out, point-and-shoot, then go," well, then, you're in a for a much more rewarding experience.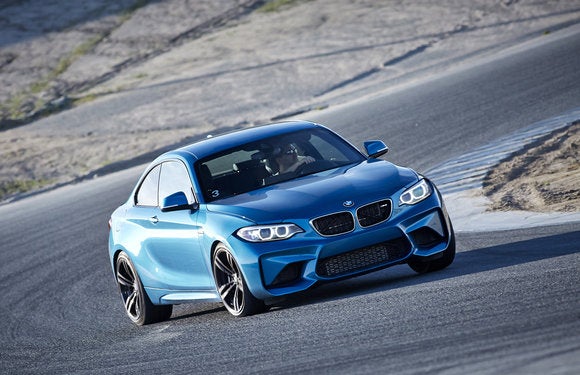 As I hunt for the apex in turn 2, the M2 responds to throttle-steer with willing enthusiasm. Credit: BMW
Do I have any gripes? Well, I felt a soft brake pedal. The car still shed speed, mind you, but I had to re-calibrate my braking approach. I'm not sure if BMW simply has a different philosophy on braking feel, or if the car's four-piston calipers were getting tired (I was in the last of the three groups to thrash the car that day).
I also found myself constantly hitting the 7000rpm rev limiter. Granted, I was still learning the car, and not paying complete attention to my gauges during my game of Chase the Professional Race Car Driver. Still, the Elise, my current track car, revs to 8500rpm, and I've found that winding an engine to the stratosphere pays its own special emotional dividends.
Previous Page 1 2 3 4 5 Next Page