BMW M2 first drive: Exhilarating, tossable, and thoroughly driver-full
Let's hit pause on the driverless tech discussion. The BMW M2 uses hardcore German engineering to form a blockade against the forward march of robot-driven cars.
In the M2, BMW's 3-liter inline six employs a single turbo with what the company calls M TwinPower Turbo technology. You'll notice the slightest hint of turbo lag only if you look for it, and the car rockets forward without hesitation as you reach the 7000rpm redline (and illegal highway speeds) very, very quickly. But if you're looking for a high-torque kick in the ass—a sudden thrust of forward momentum deep in the rev range—you'll need to buy a naturally aspirated M from a bygone era.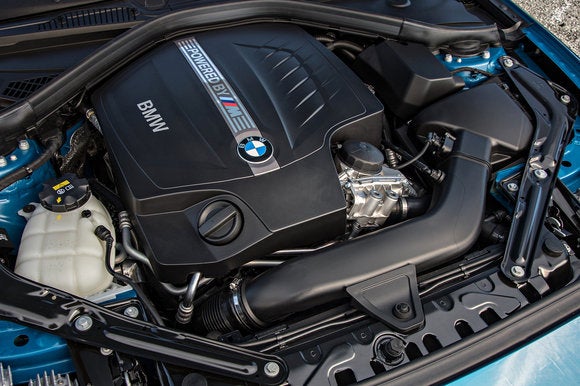 The 3-liter, single turbo inline six: Civilized by fast. Credit: BMW
Even in Sport mode, ride quality on less-than-perfect pavement is civilized (at least if your anatomy is performance-calibrated; I can't help you if you're only attuned to luxury sedans). Indeed, I could definitely see myself spending three-plus hours in the M2, never wanting for a cushier ride. Yet when traffic gets out of the way, and open corners present themselves, that same comfortable chassis gets down to business.
The steering loads up with an appropriately meaty heaviness, and the suspension begs for more throttle. At some 3,300 pounds, the M2 is about 115 pounds lighter than my old 2006 E46 M3, yet feels more agile than its weight (and 19-inch wheels) would suggest.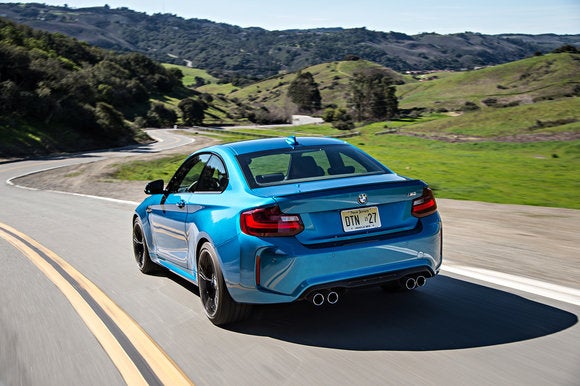 On public roads—even the twisty ones—it's easy to keep the M2 civilized.
Apparently, lightweight aluminum chassis hardware borrowed from the current M3/M4 make for some lively handling dividends. And just like any other M car, you simply can't overwhelm the M2's grip on public roads—unless you're an outright sociopath or just don't know how to drive.
Drift'em if you got'em
In the afternoon, my M2 experience segues to a lead-and-follow session at Laguna Seca. No, scratch that. It's better described as a chasing session, because one doesn't really "follow" Bill Auberlen during a lead-and-follow exercise. As the multi-time American Le Mans Series winner drove around Laguna Seca with probably just a single hand on the wheel, I over-drove the M2 around the track's 11 corners, trying to keep pace, and making more mistakes than I'm comfortable with.
But the beauty part? The M2 makes it fun. It makes it fan-bloody-freaking fun.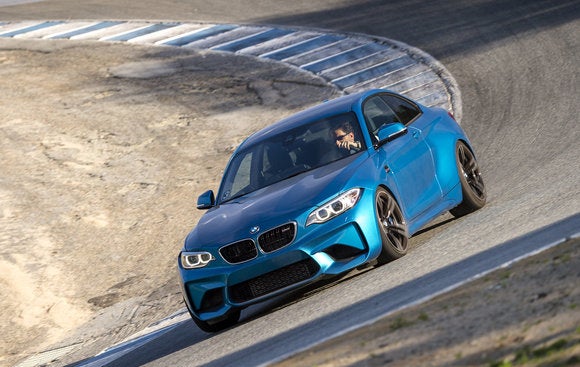 As I dive down Laguna Seca's corkscrew, the BMW M2 feels more nimble than its 3,300 pounds would suggest. Credit: BMW
Here's the thing: BMW's M Dynamic Mode (which engages when you put the car in its Sport+ setting) is both a hero-maker and a dignity-saver. Coupled with the M2's Active M Differential, MDM lets you get into just enough rear-end slip to make stupid driving really exciting, but intervenes with computer logic right before the spin.
Previous Page 1 2 3 4 5 Next Page