BMW M2 first drive: Exhilarating, tossable, and thoroughly driver-full
Let's hit pause on the driverless tech discussion. The BMW M2 uses hardcore German engineering to form a blockade against the forward march of robot-driven cars.
Nor is the M2 engineered to stay firmly planted on the ground on every foot of pavement. Set the M2 to its Sport+ setting, and BMW's M Dynamic Mode (MDM) allows just enough tire slip for those times when you think the world would be a better place with computer-controlled rear-end drifts.
This is today's engineering from Munich. It's based on a philosophy that says driving is both self-affirming and fun. Meanwhile, that self-driving Google car from Mountain View contemplates the meaning of LIDAR signals. Which would you rather have?
A throaty, crackling M2 soundtrack
I'll get into the M2's track manners shortly, but let's attack this experience in chronological order. My day started with a gorgeous early morning drive from Laguna Seca to Big Sur, carving through 2nd and 3rd gear corners when tourist traffic wasn't clogging my path.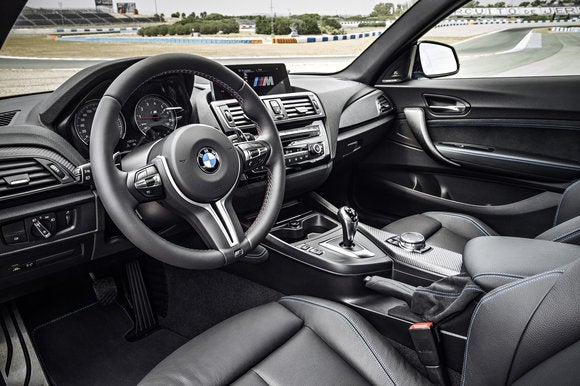 The interior puts everything right where it should be. And here's a bonus for hardcore enthusiasts: You can access a GoPro app and BMW's own M Laptimer app directly from the dashboard to record video and data during track days. Credit: BMW
Stepping inside the M2, I feel immediately at home, cocooned in that same low-slung, well-bolstered seating position of the E36 and E46 M3s I've owned in the past. I place the car in its Sport mode, blip the throttle, and hear the sweet thwat and rumble of BMW's soundtrack-optimized exhaust.
The quad-tipped horn section should be just throaty and loud enough to dissuade you from aftermarket exhaust options, and when you let off the gas, you hear the crackle and pop of backfire—a sound I would have killed for in earlier M3s.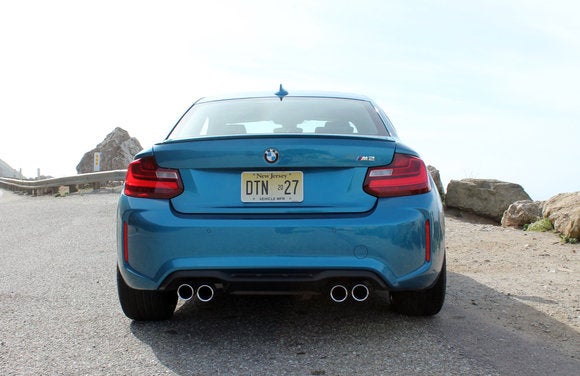 The M2's quad tailpipes signal you're following something fast. And the exhaust sounds awesome with crackling pops, as well. Credit: Jon Phillips
For the canyon drive, BMW put me in the M2's six-speed manual version. The linkage is tight and precise, if just a tiny bit long of throw. The clutch is light and has a relatively high engagement point, but I warm to it quickly. Pedal placement is absolutely perfect for heel-toe downshifts, but you'll never need to worry about that: The manual tranny executes its own throttle blips on downshifts, keeping the M2 drama-free when cycling down gears.
Linear and flat to the 7000rpm redline
Is the M2 fast? Yes, but you don't buy this car for life-changing revelations about speed and forward thrust. The six-speed manual version has an advertised 0-60 time of 4.5 seconds, and it feels that fast—in a very linear, somewhat coldly efficient way.
Previous Page 1 2 3 4 5 Next Page