Blizzard announces new World of Warcraft expansion and more at BlizzCon 2013
Diablo III gets an expansion, Heroes of the Storm gets an open beta, and Blizzard gets Blink-182. This is BlizzCon 2013.
They're fighting an uphill battle; DOTA 2 and League of Legends are fairly entrenched. However, Blizzard does have a few perks in its corner.
Since DOTA was originally a mod, Heroes of the Storm is the only game that can officially use the same models for each champion as the original Warcraft III version (though let's be honest: MOBAs are in large part thinly-skinned versions of Warcraft III).
Blizzard is banking on the inclusion of its lengthy lore. BlizzCon attendees couldn't stop cheering during the cinematic trailer, which showed off popular characters from Blizzard's past: Arthas from Warcraft III, Nova from StarCraft: Ghost and StarCraft II, and a host of others.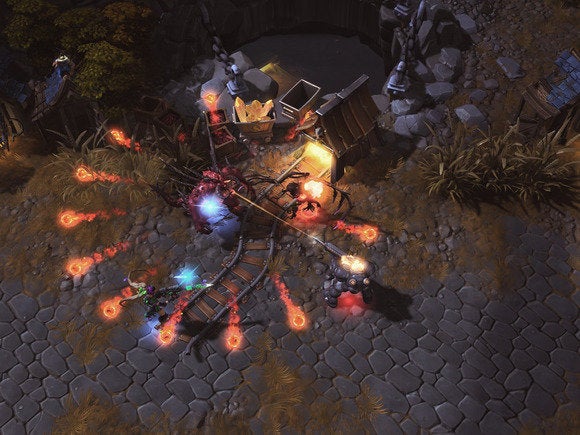 Jim Raynor, Nova and Diablo can conceivably come to blows in Heroes of the Storm.
"This game wouldn't be here without BlizzCon," said Browder. "When we came to BlizzCon we were inspired by the art hanging on the walls, by the banners showing all these characters together."
In other words, Heroes of the Storm is the Super Smash Bros. of MOBA games.
The game is also going to feature more than one map, which is a change for the genre. Traditionally, MOBAs only play out on one specific map. Blizzard is taking the same basic map shape, but theming it differently in what they call "Battlegrounds."
For instance, there is a pirate-themed map that takes place on Blackheart Bay. "On Blackheart Bay you're going to collect cursed treasure and deliver it to a pirate lord," said Browder. If you succeed, the pirate lord will turn his cannons on your enemies.
It's an interesting twist, but we'll see whether it's enough to dethrone Valve and Riot in the MOBA space.
Hearthstone coming to iOS and Android
Next, Rob Pardo took the stage to talk up Blizzard's progress on developing Hearthstone, the company's free-to-play online card game that's been operating in a closed beta state for months. "Hearthstone is a first for Blizzard in a lot of ways," said Pardo, who serves as Blizzard's Chief Creative Officer. "It's our first free-to-play game, our first tablet game, and the first game we've announced and made playable in the same year."

Hearthstone is Blizzard's first try at making a free-to-play game.
Pardo didn't offer a hard launch date for the game, but he did announce that Hearthstone will enter open beta before the end of the year—unless it doesn't. Pardo calls this kind of loose release schedule "Blizzard time", but you should call it a reminder to pay attention to the Hearthstone website if you're interested in playtesting the game. Hearthstone is also being developed for iOS and Android devices, though we don't have any details on when those versions might see the light of day.