BlackBerry jumps into smartwatches with BBM on Android Wear devices
Also announces Passport smartphone with rounded corners for AT&T.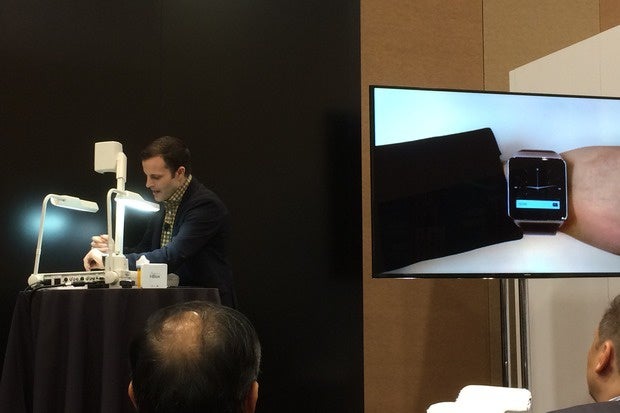 Jeff Gadway, BlackBerry's director of enterprise products, demonstrates a Blackberry Messenger chat on a Samsung Galaxy Gear S smartwatch running Android Wear that was connected via Bluetooth to an Android smartphone.Credit: Matt Hamblen/Computerworld
LAS VEGAS -- BlackBerry on Wednesday demonstrated its Messenger application on Android Wear smartwatches at the International CES trade show.
The brief onstage demo for reporters and analysts indicated a new direction into wearable technologies for BlackBerry. At the same time, it showed that BlackBerry, long a stronghold of business users, expects businesspeople to begin buying smartwatches for quick wrist-based alerts and longer communications that don't require digging into a pocket or purse for a smartphone.
BBM (BlackBerry Messenger) for Android Wear smartwatches like the Moto 360 or the Samsung Galaxy Gear S should be available in about two months, said Jeff Gadway, director of enterprise products for BlackBerry.
He demonstrated how a BBM user could take a brief text and voice interaction with another worker from the Galaxy Gear S smartwatch. The smartwatch was connected via Bluetooth to a smartphone kept in his pocket.
With enterprise-class BBM Protected, its end-to-end encrypted messaging service, BlackBerry also able provides the higher level of encryption that businesses need to keep communications secure, he added.
BlackBerry says it has 90 million active users on BBM, and the service is growing.
"The smartwatch is great for me if I'm in a meeting and get a notice on my wrist, then I can swipe right and hit a pre-set to send back a response, 'Why don't we connect once we're done?' " Gadway said. Google Now can also be used to enable voice connections.
Gadway said that companies, such as in warehouse operations, might choose to buy line workers $200 smartwatches to monitor workflows, which would be much less than the cost of most smartphones and laptops. Workers could receive alerts on the smartwatch to start or change a task or learn when a problem occurred.
Millions of new devices connected in the Internet of Things could automatically send alerts to workers or executives when problems occur with equipment or processes, such as events like a water pump failure, Gadway said.
"It's early for smartwatches, but BlackBerry decided its definitely worth exploring," he said. "This is our move beyond smartphones to wearables."
With BBM for Android Wear, users will receive alerts on the smartwatch when a new BBM message arrives, and also see the sender and preview messages. BBM users can also read BBM messages in their entirety and send pre-set responses or use Google Now to respond.
Also at CES, BlackBerry announced an Internet of Things technology platform that initially focuses on the auto and asset tracking industries. The platform relies on BlackBerry's QNX software that will serve as a message bus for data exchanges and data collection between sensors and other devices.