Bing Concierge appears to be Microsoft's answer to Google's conversational Assistant
A natural language agent that fulfills tasks on behalf of the user. What a great idea!
If you were wondering what Microsoft's response would be to the next-generation, conversational Google Assistant that debuted at Google I/O, a job posting may have revealed it: Bing Concierge.
ZDNet's Mary Jo Foley unearthed a job posting for what Microsoft calls the Bing Concierge Bot, a natural language agent that fulfills tasks on behalf of the user.
But while Assistant appears to restrict itself to the Android platform, Microsoft seems to believe Bing Concierge could run on any number of instant-messenger platforms. "In Bing Concierge Bot... we are building a highly intelligent productivity agent that communicates with the user over a conversation platform, such as Skype, Messenger, SMS, WhatsApp, Telegram, etc.," the job listing reads.
Why this matters: Just as Google moves on from Google Now, Microsoft appears to be evolving beyond Cortana. Right now, it seems like Google wants its Google Assistant to be the single approach to conversational interaction with machine intelligence, using Android smartphones and cool consumer devices like Google Home. Microsoft, meanwhile, intends to publish bots wherever it can, mirroring its philosophy of pushing its services onto competing platforms like Android and iOS.
Digital assistants are becoming chattier
Both Google Now and Cortana began as somewhat more intelligent incarnations of their respective search technologies: You asked a question ("Who was the first president?") and received an answer back. Over time, both started showing "cards" containing the answer, rather than launching a standard web search. Both assistants also began learning context and different phrasing, so they understood that the "first president" being asked about referred to the United States, not France.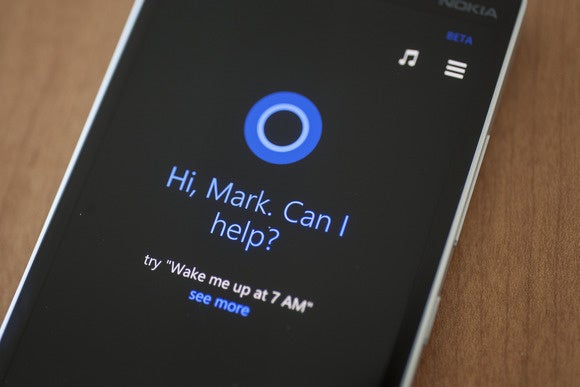 Cortana evolved from an assistant who offered to help to one takes on more responsibility. Credit: Rob Schultz
Now, the state of the art has moved to a give-and-take between user and assistant. In the Assistant examples Google showed, the user asked for movies and Assistant suggested some nearby showings. Then the user told Assistant that he wanted to bring his kids. Assistant suggested some new, different movies, and proactively asked if the user wanted to book tickets for four.
Microsoft appears to have the same intentions in mind.
"The agent does what a human assistant would do: it runs errands on behalf of the user, by automatically completing tasks for the user," the job listing states. "The users talk to the agent in natural language, and the agent responds in natural language to collect all the information; once ready, it automatically performs the task for the user by connecting to service providers. For example, the user might ask, 'make me a reservation at an Italian place tonight,' and the agent will respond with 'for how many people?'; after several such back-and-forth turns it will confirm and book the restaurant that the user picked."