Big power, puny package: Full AMD Radeon R9 Nano tech specs and details revealed
AMD's new Radeon R9 Nano graphics card packs more performance than a Radeon R9 290X, but measures a mere 6 inches long. Here's a look under the hood.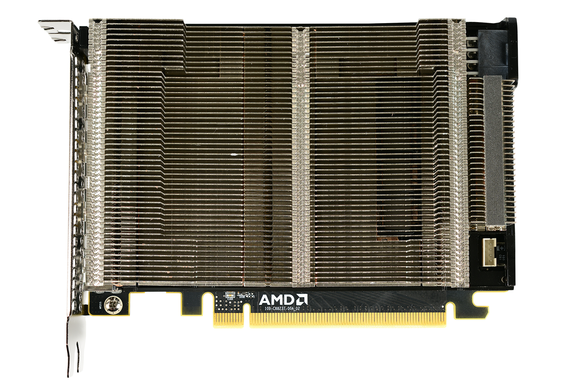 A lot at the Radeon R9 Nano's heat sink, with horizontal fins.
Aesthetically, the Radeon R9 Nano takes its design cues from the Fury X, with a brushed-aluminum finish, metal shroud, and matte-black PCB. That's nothing but a good thing, as the gorgeous Fury X absolutely screams "premium" from every pore.
And if you disagree, well, you're out of luck: The Nano will only be available in its reference design at launch, though Camardo says you may see custom variants from board partners late in the year, at least three months after the Nano's launch. If those do come to fruition, they'll be visual tweaks only—under the hood, custom variants will pack the same configuration as AMD's reference Nano.
More with less (volume)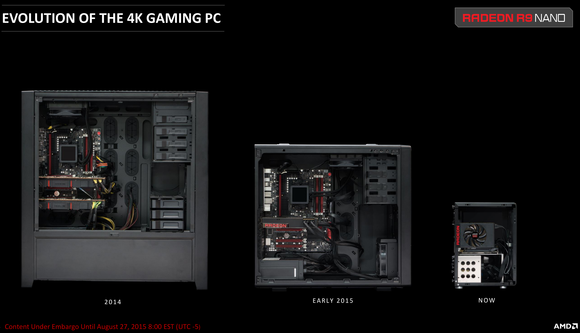 An AMD-supplied timeline of the type of PC you needed to play 4K games over the years.
AMD's keen to point out just how far 4K gaming PCs have come in such a short time. Just last year, playing games at 4K resolution required the use of multiple high-end graphics cards in a massive PC tower. Earlier this year, the launch of graphics cards like Nvidia's beastly GeForce GTX 980 Ti and AMD's Radeon Fury X finally enabled true single-GPU 4K gaming. And now, mere months later, the Radeon Nano is promising to bring ultra-high-resolution gaming into itty-bitty mini-ITX boxes even smaller than AMD's radical Project Quantum PC.
Well, if AMD's power and performance claims hold true in real life, that is.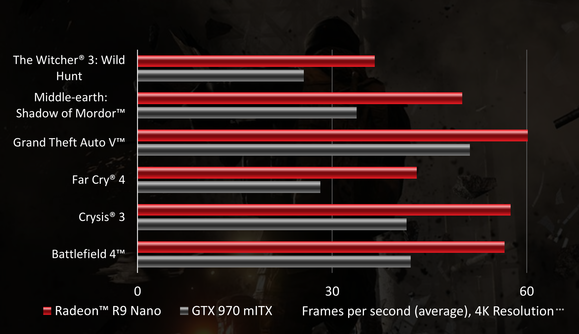 AMD-supplied performance benchmarks comparing the Radeon R9 Nano with a mini-ITX GTX 970. Testing conducted on a 3.0HGz Core i7-5960X, 16GB of 2166MHz DDR4 memory, Windows 10 64-bit. AMD Catalyst 15.20 and GeForce 355.60 WHQL drivers used.
"There's really nothing else in this class," Camardo said. "For anyone who wants to build a small form factor chassis capable of playing 4K, the Nano is really interesting and that's exactly where we targeted it: For those people who want power efficiency, who want high-performance, who want a good overall gaming solution that's optimized to take advantage of all aspects of the product, and not just push one curve or the other to the max."
We won't know for sure if reality matches the promise until we get our hands on the Nano, but the song AMD's singing sounds pretty darn enticing in theory. And AMD knows just how unique this card is: the Radeon R9 Nano will retail for $650, the same price as the water-cooled Radeon Fury X and Nvidia's GTX 980 Ti, when it hits stores on September 10. Look for independent reviews to land around the same time.
Previous Page 1 2 3