Big power, puny package: Full AMD Radeon R9 Nano tech specs and details revealed
AMD's new Radeon R9 Nano graphics card packs more performance than a Radeon R9 290X, but measures a mere 6 inches long. Here's a look under the hood.
In practice, Camardo said, you can expect to see performance levels around the same as the air-cooled Fury, which hit maxed-out 1440p or solid 4K gaming performance. "There's nothing else in [the mini-ITX form factor] class that can drive a 4K display" in gaming, Camardo boasted.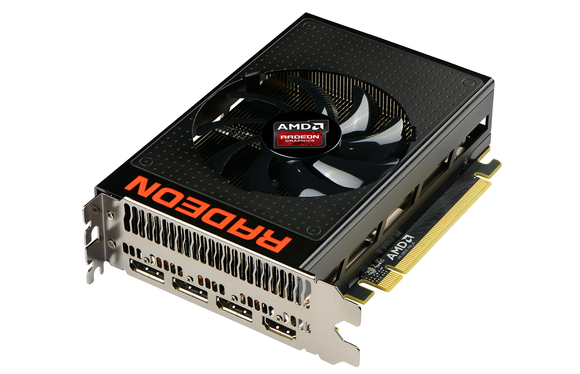 The Radeon R9 Nano packs four DisplayPort 1.2 ports and a single HDMI port. Sadly, Fiji features HDMI 1.4a rather than 2.0, so 4K signals over HDMI are limited to 30Hz—a disappointing drawback in a card otherwise well suited for use in a powerful home theater PC.
AMD Radeon R9 Nano design
If you wanted to push things even further, you could move the card's power target higher and overclock its core (but not memory) speed—but in doing so you'll be negating some of the Radeon Nano's key features: Its paltry 175W power requirement, and its quietness. AMD says the card runs at a mere 42 decibels, or the same relative ambient noise level as a library. That's a full 16 decibels softer than the Radeon R9 290X's noise under load.
AMD paid attention to complaints about the horrid coolers on reference card designs for the R200-series graphics cards, too. The Nano aims for a 75C temperature while gaming, or 20 degrees less than the R9 290X. And that's with an air cooler and a six-inch length!
That sort of efficiency can be chalked up partly to Fiji's vastly improved power handling—AMD boasts it offers up to twice the performance per watt compared to the 290X. Camardo says the company placed a lot of thought into the Nano's cooling design as well.
"We spared no expense, we left no stone unturned, and we really pushed our engineering teams to do their utmost," Camardo said of the Nano's cooling.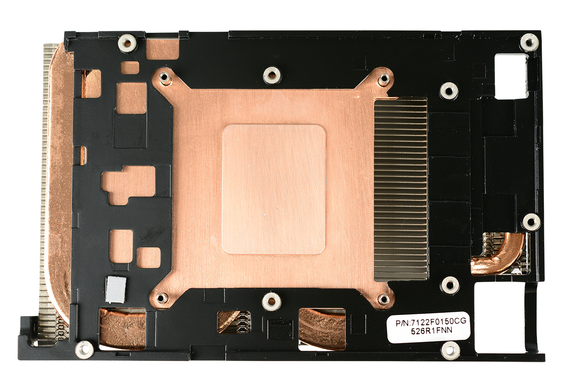 You can see the copper vapor chamber and heat pipes in this look from the bottom (a.k.a.'s GPU's-eye view) of the Radeon R9 Nano's cooling solution.
The card features a copper heart pipe dedicated solely to cooling the voltage regulator module. "I don't believe anyone else in the industry is doing something like this," Camardo said. "I know [other companies] have plates that go over VRMs, but never actually a dedicated heat pipe just for voltage regulators as a separate, standalone cooling solution."
AMD intentionally arranged the heat sink's fans to run horizontally across the Nano, the easier to blow hot air out of the case rather than down at the motherboard. Underneath, the GPU's cooled using a hybrid flattened heatpipe/vapor chamber solution. There's no backplate on the card, in order to help facilitate air circulation to the board, and the fan itself is integrated into the card's shroud—which means you won't be able to 3D-print your own Nano front plate, as you can with the Fury X.