Best new technology products of November 2014: Nokia tablet, Microsoft's smartwatch and more
We round up the best new tech gadgets and products for November 2014.
The lead up to Christmas continues and we've got a range of great new products this month including a comeback from Nokia, new Amazon kit and Microsoft's long awaited wearable device. Read: Best tech gifts for Christmas 2014.
Best new technology products of November 2014
Nokia N1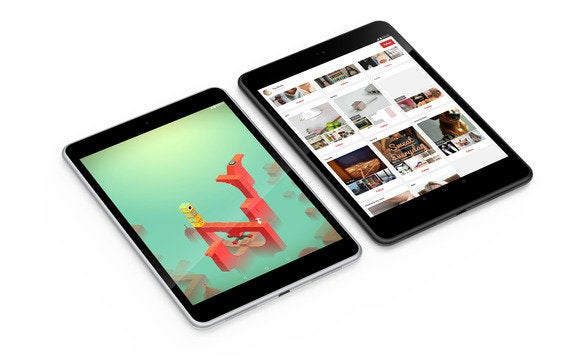 Tablet
Although Microsoft bought its handset business, Nokia is back with an Android Lollipop tablet in the N1. At 7.9in, it's an iPad mini rival and looks pretty similar too with the aluminium design. It features a 64-bit Intel Atom processor and the firm's own Z Launcher. Also see: Best Android tablets 2014 and Best tablets 2014.
$249 inc VAT (UK price TBC)
Microsoft Band

Fitness tracker
With a not very inventive name, the Microsoft Band is the software giant's highly anticipated foray into wearable tech. It can help with productivity by displaying email, calendar and message notifications but is primarily a fitness tracker including heart rate, UV and skin temperature sensors. Microsoft has included support for iOS and Android on top of Windows.
$199 inc VAT (UK price TBC)
HP Omen

Laptop
This sleek gaming laptop has a custom chrome hinge and blue-coated tips to echo the racing look of titanium exhaust pipes. Under the hood is an Intel Core i7 processor, up to 16 GB of RAM, dual-SSD drives and an nVidia GeForce GTX 860M graphics card.
£1,299 inc VAT
Microsoft Lumia 535

Smartphone
The Lumia 535 is Microsoft's first Windows Phone handset since dropping the Nokia branding. The budget smartphone now has the firm's own name on it and the usual selection of bright colours. A 5in qHD screen and 5 Mp front and rear cameras headline the spec sheet.
Around £100
Arcam Solo Bar

Soundbar
The Arcam Solo Bar is an all singing, all dancing soundbar with 100W of power through six drivers. It comes with four HDMI inputs and supports 4K pass-through via the single HDMI output. The firm touts it as the best Bluetooth speaker on the market with AptX support and private listening feature.
£800 inc VAT
Acer Switch 12

Laptop/tablet hybrid
The hybrid market pushes on and Acer is back with another Switch product. The Switch 12 has a larger screen than previous models at 12.5in and offers a magnetic and latch-less detachable keyboard. It has an Intel Core M processor and a touted battery life of 8 hours.