Battle of the (fitness) bands: Garmin vivosmart HR vs. Fitbit Charge HR
Garmin's vivosmart HR and Fitbit's Charge HR activity trackers both monitor heart rates, and both cost $150. However, while Garmin wins the war of features, its new band has some unfortunate shortcomings.

Garmin's vivosmart HR and Fitbit's Charge HR activity trackers. Credit: Garmin and Fitbit
With the brand new vivosmart HR activity tracker, Garmin took direct aim at Fitbit and its Charge HR. Both fitness wristbands have optical heart rate sensors, and they cost $150. To compete with Fitbit, the dominant player in the activity tracker market, Garmin had to take vivosmart HR several steps further. However, a few technical and design issues keep me from offering a full recommendation for Garmin's latest wristband.
Here's a list of ways vivosmart HR outdoes its Fitbit competitor, followed by a list of reason why it lags behind.
Why you might want to pick Garmine vivosmart HR over Fitbit Charge HR
vivosmart HR doubles as a watch
Unlike Charge HR, Garmin's wristband continually displays the current time, so it functions as a watch. And you can choose to display time information in vertical or horizontal orientations.
vivosmart HR displays weather, multiple types of notifications
You can swipe through various pieces of information on the vivosmart HR screen, including current weather conditions, and you can choose to receive caller ID, calendar and other app alerts. Fitbit's Charge HR only offers caller ID notifications.
vivosmart HR shows progress toward daily goals
The vivosmart HR's screen shows your daily activity stats in context with your goals. When you swipe to view steps, for example, you see them alongside the goal so you can immediately check your progress.
You can swim with vivosmart HR
The vivosmart HR has a 5 ATM rating, which means it's suitable for surface swimming. Charge HR has a 1 ATM rating, so it can stand some rain but it's not fit for a shower or a swim.
vivosmart HR captures more accurate resting heart rate
Both Charge HR and vivosmart HR calculate your average resting heart rate. However, in my experience, vivosmart HR's measurement is more in line with my heart rate when I wake up, which is an ideal time to capture a reading.
On the flip side ...
Why you might want to pick Fitbit Charge HR over Garmin vivosmart HR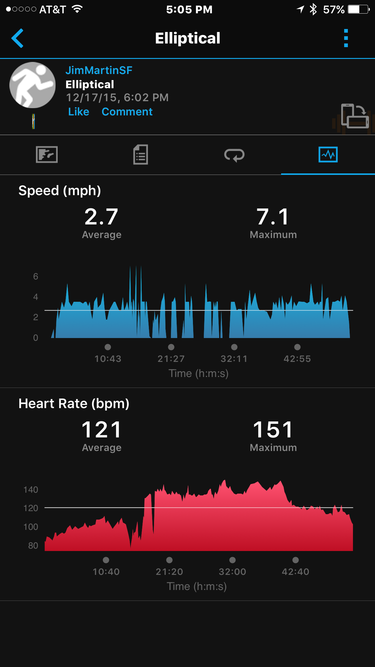 vivosmart HR band is Bluetooth-challenged
It took several attempts to pair vivosmart HR with the Garmin Connect app on my iPhone 6s Plus. (The app is also available for Android devices.) Even after they paired successfully, the band lost its connection on several occasions. It's not always easy to sync data, either. I've used almost every Fitbit device ever released, and Bluetooth connectivity is always steady and reliable, and I never have problems syncing data.