Automation arrives at restaurants (but don't blame rising minimum wages)
McDonald's has joined the list of food chains looking to put more machines to work.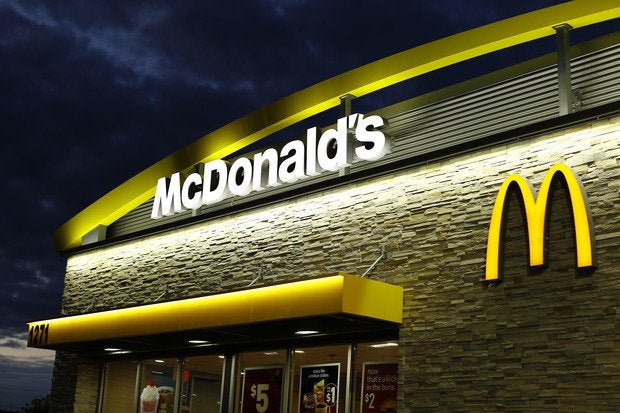 A McDonald's in Encinitas, Calif. The company this week described plans to install self-ordering kiosks and mobile ordering at its restaurants. Credit: REUTERS/Mike Blake
McDonald's this week told financial analysts of its plans to install self-ordering kiosks and mobile ordering at its restaurants. It isn't the only food chain doing this.
The company that owns Chili's Grill & Bar also said this week it will complete a tablet ordering system rollout next month at its U.S. restaurants. Applebee's announced last December that it would deliver tablets to 1,800 restaurants this year.
The pace of self-ordering system deployments appears to be gaining speed. But there's a political element to this and it's best to address it quickly.
The move toward more automation comes at the same time pressure to raise minimum wages is growing. A Wall Street Journal editorial this week, "Minimum Wage Backfire," said that while it may be true for McDonald's to say that its tech plans will improve customer experience, the move is also "a convenient way...to justify a reduction in the chain's global workforce."
The Journal faulted those who believe that raising fast food wages will boost stagnant incomes. "The result of their agitation will be more jobs for machines and fewer for the least skilled workers," it wrote.
The elimination of jobs because of automation will happen anyway. Gartner says software and robots will replace one third of all workers by 2025, and that includes many high-skilled jobs, too.
Automation is hardly new to retail. Banks rely on ATMs, and grocery stores, including Walmart, have deployed self-service checkouts. But McDonald's hasn't changed its basic system of taking orders since its founding in the 1950s, said Darren Tristano, executive vice president of Technomic, a research group focused on the restaurant industry.
The move to kiosk and mobile ordering, said Tristano, is happening because it will improve order accuracy, speed up service and has the potential of reducing labor cost, which can account for about 30% of costs. But automated self-service is a convenience that's now expected, particularly among younger customers, he said.
"It's keeping up with the times, and the (McDonald's) franchises are going to clamor for it," said Tristano, who said any labor savings is actually at the bottom of the list of reasons restaurants are putting in these self-service systems.
McDonald's is already deploying mobile ordering in other countries. In France, you can order a McDonald's hamburger from a mobile device, tablet or desktop and pick it up later at a restaurant, said Thomas Husson, a Forrester analyst in a report.
"By reducing the stress of the ordering, McDonald's has significantly increased the average revenue per order," wrote Husson of the experience in France.