At CES: Wearable tech for training your successor
Industrial uses find their way into a consumer electronics show.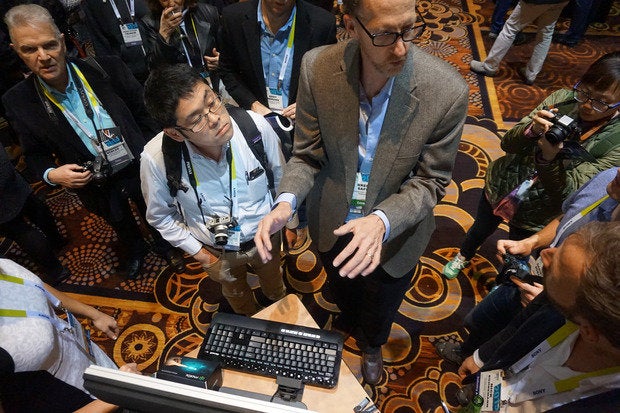 Brent Safer, an inventor who founded Motix, demonstrates his cursor control gesture technology at CES. Credit: Patrick Thibodeau/Computerworld
To be kind, some of the products at the International Consumer Electronics Show here are a stretch, such as a belt that automatically expands when you sit down or eat too much. There hasn't been a lot of innovation in belt making in the last few hundred years, so the French-based firm that created this smart belt, Emotia, believes the public might be ready for something new.
Consumer technology is often bold and audacious, but some companies at this show are aiming their products at businesses, if not exclusively.
One firm, XOEye Technologies, has developed eyewear that includes a camera and sensors. It's designed for blue-collar occupations, not consumers, but its CEO Aaron Salow was at the trade show Sunday, not far from the belt demo, to show his product. He sees CES as a good way to make connections.
XOEye's eyewear has numerous functions, including barcode scanning and sensors that can track, for instance, how many times an employee has to bend down to pick something up, or how far someone must walk to perform certain tasks.
But the big use for these glasses is for job training, especially today as many baby boomers in the skilled trades retire. With the glasses' video link, someone can see exactly what a person is doing. This means that a person with expertise can observe, guide and instruct someone on a particular job, no matter where they are located.
A worker who is 65, for instance, may not be best suited for climbing to a building rooftop to fix an HAVC unit, "but he can sit behind a computer and tell a 20-year-old what to do," Salow said.
The eyewear system is designed with IT departments in mind. XOEye built a Linux-based operating system, not Android, because it wanted a platform that enterprise IT departments understood and could more easily integrate with business platforms, Salow said.
XOEye has been performing pilot tests on the eyewear, but was launching it at the show.
Another product at CES that might find industrial use, as well as consumer use, is a "personal transportation device" developed by a French-based company, Rollkers.
The Rollkers attach to the bottom of your shoes and provide the means to reach speeds of up to 7 mph by walking, said Paul Chavand, the CEO.
"You cannot fall," said Chavand, and balance is maintained by a controller system and electric motor. "No training is necessary," he said.
It may be a year or two before the product gets to market, and Chavand said he expects consumers will be first to buy it, but businesses, such as warehouses, will be interested in the technology.