Asus' Transformer Book Chi line offers a cheap alternative to the Surface Pro
Nine months after we snuck an unauthorized hands-on with the Asus T300, this tablet/laptop hybrid line is finally ready for prime time.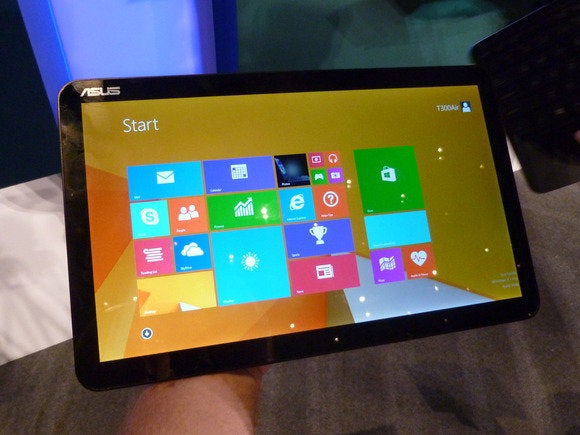 Early in 2014 we snuck an unauthorized hands-on with Asus's Transformer Book T300 Chi, the company's newest Windows-enabled tablet/laptop hybrid, and came away impressed. It's slim! It's lightweight! It runs Windows 8.1! It's a blatant, uh, homage to the Microsoft Surface!
Nine months later, at CES 2015, Asus is finally to give the world a company-sanctioned look at the device, alongside the other two members of the awkwardly-named Transformer Book Chi family--the T100 Chi and the T90 Chi.
Work in the front, party in the back
First, it's worth reiterating what we said earlier this year: Despite the presence of Windows 8.1 on the Chi series, these are more like tablets-with-keyboards (see also: Microsoft's Surface) than laptops-that-become-tablets (see also: Lenovo's Yoga line). Tablet-first devices, while thinner and lighter than their counterparts, tend to offer fewer ports and less performance than proper notebooks.
That doesn't mean you should necessarily write them off though. If you for some reason fit into this 2-in-1-needing niche that Microsoft, Lenovo, Asus, and every other manufacturer under the sun is slowly willing into being, the Chi series (and especially the T300) is looking like a damn fine alternative to the Surface Pro--and at a cheaper price.
The $300 T90 Chi is the most mobile of the group, at 7.5mm thick with an 8.9 inch display and a Surface-like keyboard that's more a thin slab than a laptop base. I haven't gotten eyes-on with the T90 yet, but I'm honestly happy to save my vision--the T90 features a dismal 1280x800 display. That sort of pixel density wouldn't have been high end even two years ago when Asus's own Nexus 7 came out, let alone now. Still, the price isn't bad for a Windows tablet with an included keyboard accessory.
But the T100 Chi is a better offer, featuring a 10.1 inch, 1920x1200 IPS display and an actual laptop-like keyboard while coming in at a mere $400. Asus also joins the "Let's make absurdly niche claims at CES" party by wagering that the 7.2mm T100 is the thinnest Windows-based tablet on the market, and I'm happy to give them that award as long as nobody ever quotes me on it.
It's clear the T300 is Asus's flagship device though, with a 12.5 inch display at either 2560x1440 or 1920x1080 depending on your preference. Snapping the two halves of the device together still leaves it at a slim 1.65 inches, which Asus is quick to point out is thinner than the MacBook Air. And at $800, it's the same price as Microsoft sells the entry-level Surface Pro 3 for sans keyboard.