As Microsoft focuses on mobile, Windows 10 will be key
The success of any new Lumia smartphones unveiled Tuesday is uncertain.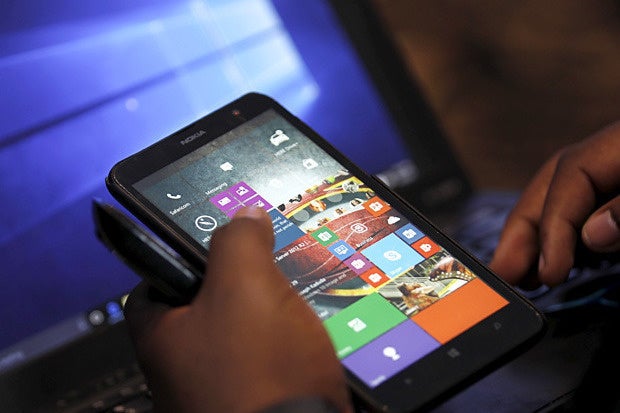 A Microsoft delegate checks applications on a smartphone during the launch of the Windows 10 operating system, July 29, 2015. Credit: REUTERS/Thomas Mukoya
Windows 10 -- and the fate of Microsoft's smartphones -- will be front and center at the company's event today as the Redmond, Wash. developer highlights its focus on mobile with expected announcements of new Lumia smartphones, the next Surface Pro 2-in-1 device and an updated Microsoft Band smart wristband.
Windows 10, released in late July, will likely run on all the new devices, with cross-platform functions that aren't yet completely understood or fully appreciated by most users. To wit: If a new Lumia smartphone with various apps can easily complement software running on a Windows 10 desktop PC, laptop, tablet or Surface Pro, then the Lumia could be seen as a powerful tool -- especially for business users.
So far, however, Microsoft hasn't done well with Windows smartphones; it garnered just 2.8% of sales in the second quarter of this year, well below the 84% share for Android and 12% for Apple's iOS, according to Gartner numbers released in August.
Tuong Nguyen, an analyst at Gartner, agreed that Microsoft has faced a "tough go at targeting the mass market" with its smartphones. And any Lumia announcements won't trigger an immediate turnaround.
"The focus with Windows 10 seems to be the bigger picture," Nguyen said. "Their hope is to have Win10 be a platform that appeals enough for consumers that they will opt to carry that brand and experience over to the phone and tablet world."
But that carryover effect, Nguyen said, is more suitable for mature markets like the U.S and the U.K.,where consumers are more likely to use PCs. "Developing markets tend to be mobile-first or mobile-only, so they could potentially overlook Win10s' [cross-platform] benefits. As such, this narrows [Microsoft's] addressable market."
In that scenario, it also doesn't help that smartphone sales have slowed in developed countries, while the biggest growth is in emerging markets.
Nguyen also questioned the value of a Lumia smartphone for the enterprise user, since many businesses rely on a bring-your-own-device approach, which has heavily favored iOS and Android smartphones. "Consumers have a hard time associating Microsoft with mobile," he said. "As the market becomes increasingly mobile, it only becomes more of a challenge for Microsoft to get a foothold."
Patrick Moorhead, an analyst at Moor Insights & Strategy, saw more opportunity for Microsoft.
"Extending a Windows 10 experience alone won't move masses of consumers over to Windows 10 smartphones, but I do see potential for enterprise phones," he said. "Microsoft could have success in enterprise phones with Windows 10, but they have to provide the apps and security that businesses expect, but be close enough to a consumer look and feel so employees will accept them."