Appliance startup Marathon Laundry takes the Tesla approach to washing machines
Marathon will show its first product, an all-in-one washer/dryer combo, at CES next week.

Credit: Marathon Laundry
Glenn Reid, a tech-industry veteran with stints at Apple and Adobe on his resume, is looking at a dozen laundry machines in various states of disrepair when he calls me. He's trying to figure out how to construct a washer without 30 pounds of concrete anchoring the base, but there's a huge problem: Concrete keeps your typical washing machine from toppling over during the powerful spin cycle. Reid wants to design a product that can stay upright on its own for his appliance start-up, Marathon Laundry.
"I'm not sure what the best way to get rid of concrete is," Reid says. "If Elon Musk can land rockets backwards, then we have a way to stabilize a washing machine without concrete."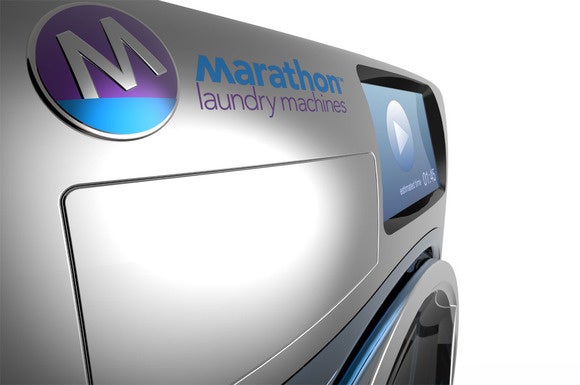 Marathon Laundry's washer/dryer combo will have a powerful CPU and a touchscreen display. Credit: Marathon Laundry
Tesla Motors and SpaceX CEO Musk comes up several times in my conversation with Reid, who will take the wraps off a smart electric washer/dryer combo at CES in January. It still has concrete in its base, but Marathon's machine puts both a washer and a dryer in the same enclosure. Unlike previous failed attempts to combine the two, Marathon's machine will be vented—Reid promises it won't take five hours to dry your clothes. The machine is also priced to compete with other Internet-connected washing machines at $1199—and those rival machines need dryers alongside them, where Marathon's does not.
Marathon's Wi-Fi-connected washer/dryer comes with a touchscreen panel and a complementary smartphone app to act as a remote control. The machine has an A9 processor, 1GB of RAM, and an equal amount of storage. It was originally based on Android, but Reid chucked the OS because it "was more complicated than it needed to be." The machine communicates with your phone and collects data about what you wash, when, and at what temperature.
Reid is in discussions with power companies in major cities to negotiate better rates for buyers, so when you put a load of laundry in before you go to bed, your Marathon machine will delay the start of its first cycle until power rates go down.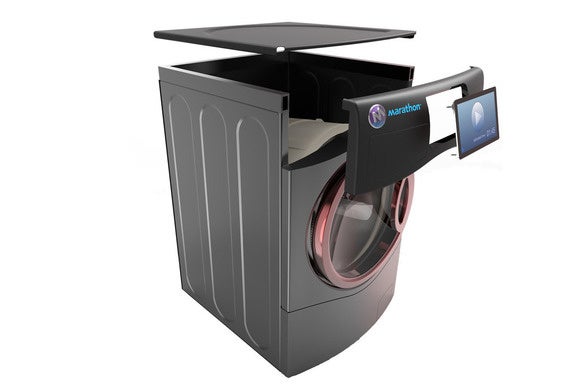 The machine will have just one drum for washing and drying your clothes, eliminating the need to transfer them from one appliance to another. Credit: Marathon Laundry
Some serious competition
Marathon Laundry is up against some major competition: Companies like Samsung, LG, Haier, and Whirlpool have dominated the industry for years. The home appliance space isn't prone to shake-ups because washers and dryers are expensive to produce and tough to market—people tend to go with trusted brand names. But Reid thinks the industry needs to be turned on its ear, just as Tesla did to the auto industry.