Apple's Schiller testifies in case against Samsung
Phil Schiller tried to convince a jury that Samsung's infringement of Apple patents cost the company phone and tablet sales.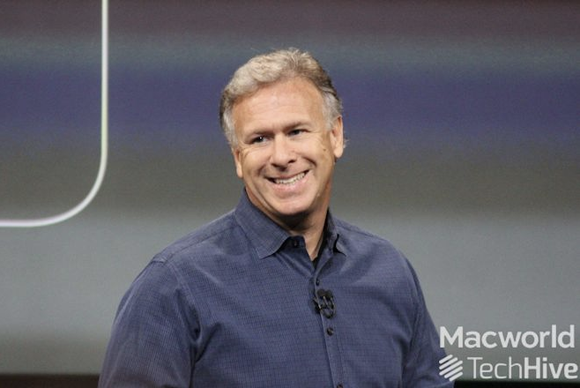 Apple's global marketing chief told a California courtroom on Friday that Apple had a tougher time selling the iPhone after Samsung launched its own smartphones with a similar design.
"It has been much harder to create demand and people question our innovation and design skills in a way they never used to," Phil Schiller, Apple's senior vice president of worldwide marketing, told the eight-person jury under friendly questioning from an Apple attorney.
Schiller was trying to convince an eight-person jury that Samsung's infringement of five Apple patents in 13 of its products -- determined in a case last year -- has cost the company dearly in lost sales and that Apple deserves to be compensated for that. Apple wants $380 million from Samsung, while Samsung is arguing that $52 million is a much fairer amount.
The executive, who is typically dressed more casually than the suit he was wearing on Friday, testified that uniqueness was key to Apple's success and the company would have had more success had Samsung not have drawn on elements of Apple design in developing its phones.
On Thursday, the court heard from Apple witnesses who asserted the company would have sold about 360,000 more iPhones if it wasn't for the infringing Samsung products and, as a result, suffered millions of dollars of losses.
This argument lies at the heart of the trial and Samsung lawyer Bill Price did his best to convince the jury that consumers would have bought Samsung products regardless of the infringement.
He displayed an internal Apple email chain — that didn't include Schiller — and discussed what "firsts" Apple could claim for the iPhone. In the emails, Apple employees pointed out that it wasn't first with a full-screen touch phone or the first with multitouch functionality. The court was again shown a clip from a 2006 TED talk in which multitouch pioneer Jeff Han demonstrated one of his screens.
And when it came to tablets, Schiller was asked about Apple's original resistance to smaller versions of the iPad. The court saw an internal email chain between himself and Apple executives Tim Cook, Eddy Cue and Scott Forstall that discussed a press report on the benefits of smaller tablets — at the time on sale by competitors — and Schiller was asked if the iPad Mini was a response to the competition.
"It was all about us trying to make a great product for our customers," he said.
Schiller did his best to play dumb to the majority of Samsung's questions. When asked about the limits of Apple patents, he said he wasn't an expert in patents. When asked if Apple had done surveys on the strength of its brand, he said he couldn't recall. And when asked about external surveys, he said he wasn't sure how often Apple bought them and relied upon them.