Apple Watch Time Travel vs. Pebble Time: Just how big a rip-off is this?
WatchOS 2 borrows liberally from Pebble's chronological data stream, but with some big differences in execution.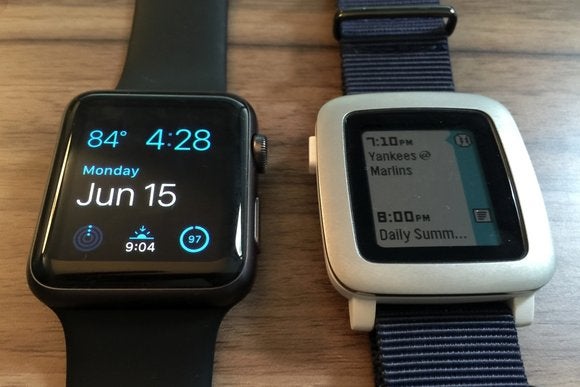 Pebble couldn't have been pleased with the smartwatch portion of Apple's Worldwide Developers Conference keynote last week.
Apple seemed to have taken a page straight out of Pebble's playbook with an Apple Watch feature called Time Travel. Coming this fall in watchOS 2, Time Travel will let users scroll the Watch's Digital Crown to view information from the past or future, straight from their main watch face. A forward scroll, for instance, could show tomorrow's weather forecast, and a backwards scroll could reveal the score of last night's game.
Months earlier, Pebble had revealed a similar feature called Timeline as part of its new Pebble Time smartwatch. By pressing up or down on the watch's buttons, users can jump into the past or future to see relevant bits of information. Pebble clearly saw Timeline as a crowning achievement in smartwatch software, with CEO Eric Migicovsky telling The Verge that it was unlike anything Apple or Google had come up with. "We've found a new framework to use as an interaction model on the watch," he said in February.
Coincidence or not, Apple has taken a liking to this interaction model as well. But is the Apple version of time-based information a pale imitation, a shameless rip-off, or a clever iteration? Upon closer inspection, it's a combination of all three.
The importance of time
Before we dive in, let's back up and consider why Apple needed a feature like Time Travel in the first place.
In my experience, the Apple Watch has been a beautiful piece of hardware with deeply flawed software. While the design is sharper than any other smartwatch on the market--even on the basic Apple Watch Sport I've been wearing for two weeks--watchOS can seem awfully dumb.
Most reviews picked up on the obvious drawbacks, such as the confusing interface and the sluggish, non-native apps (the latter of which should also be addressed by watchOS 2). But my complaint is more fundamental: In regular use, I'm rarely compelled to do anything on the watch besides looking at notifications and checking the time. Everything else, from futzing with the app launcher to fiddling with Glances, feels like a waste of energy. I might as well just take out my phone.
The missing ingredient is context. With smartwatches, I've taken to saying that if you see an app launcher, they blew it. Sure, picking an app from a list makes sense in a handful of situations, but most of the time, I want my smartwatch to figure things out for me. Using context, it should know what information I need, and understand when to serve it. That way, the watch not only saves time, but provides valuable insight into my day.