Apple Watch review: Beautiful form, frustrating function
The Apple Watch excels as a remote control and activity tracker, but it's slow and requires a Bluetooth connection to your iPhone, among other quirks. Still, it's hard not to admire a smartwatch like this.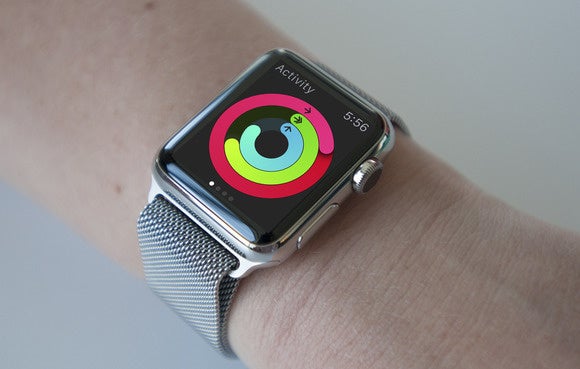 I'm all-in on Apple products. At my house, I've got two Macs, an Apple TV, an iPad, two iPhones, and an Apple router. I've never owned an MP3 player that wasn't an iPod, or a tablet that wasn't an iPad. And now I've got an Apple Watch to converge my Apple universe right on my wrist.
I really do like my Apple Watch, even though it drives me crazy. It's slow. The navigation can be confusing. I like wearing it, but I'm still unsure if I want to wear it every day, forever (or at least until there's a new one). After a week and two weekends of nonstop use, it's yet to change my game in any profound or major way.
Apple calls the Apple Watch its most personal product ever, and as such, people's reactions to it and opinions about using it will be highly subjective. One person might be delighted by the gentle taps on the wrist every time she gets a text message, while another might find those same taps jarring, and rush to turn them off.
This review contains my subjective opinions on the Apple Watch, intending to serve as a reality check for anyone still on the fence. In a world of Macs, iPhones, and iPads — not to mention accessories, peripherals, apps and services for them — we have to prioritize our spending on technology, and $350 and up is a lot to ask. For a lot of people, I don't think this first-gen Apple Watch needs to make the cut.
Fit and finish
That's not to say you shouldn't get one if you really want one, and I understand why you would. The Apple Watch is a beautiful object. It doesn't dominate my entire arm like a larger-screened Android Wear watch or even a Pebble. At 10.5 millimeters thick, it protrudes from my wrist enough that I do bang it on doorways and walls occasionally, but it doesn't seem clunky or unwiedly. (And I haven't yet picked up a single scratch, although your mileage may vary, of course.)
I'm wearing the 38mm stainless steel Apple Watch with the Milanese Loop band. I love that the metal band is comfortable and infinitely adjustable, and it goes with everything, casual to dressy. The magnetic clasp snaps shut and stays put, so I'm never worried about it falling off or loosening in the slightest as I wear it. One day I had it on from 8 a.m. straight through until 1 a.m. (and the battery was still at 13 percent when I took it off). By 1 a.m. the band was starting to feel itchy, and I couldn't wait to take it off, but usually it's fine. The Apple Watch Sport is a little bit lighter: My configuration weighs 73 grams (40 for the case, and 33 for the band), while my colleague Leah Yamshon's 38mm Apple Watch Sport with pink Sport Band weighs 67 grams (25 case, 42 band). But the Apple Watch doesn't feel heavy or cumbersome.