Apple Watch and Android Wear: Same destination, different paths
The more we learn about the Apple Watch, the less it seems like a complete departure from the existing wearable market.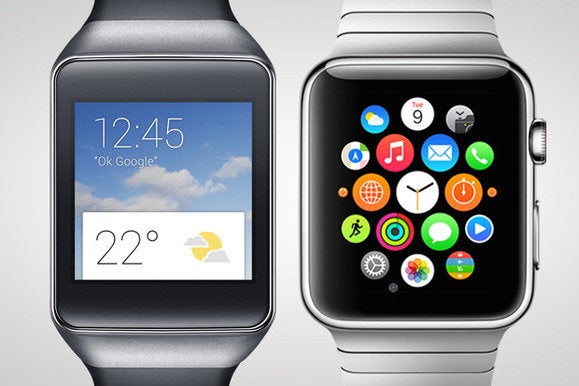 The more we learn about the Apple Watch, the less it seems like a revolutionary departure from the existing wearable market.
In particular, it has a lot of overlap with Android Wear, Google's own wearable platform.
That much became clear last week, when Apple released its design guidelines for third-party apps. Parsing the guidelines alongside those for Android Wear reveals two like-minded approaches: quick, contextual interactions are paired with data collection from sensors.
The two companies even use similar language at times:
"A Watch app complements your iOS app; it does not replace it," Apple writes. "If you measure interactions with your iOS app in minutes, you can expect interactions with your Watch app to be measured in seconds. So interactions need to be brief and interfaces need to be simple."
"A classic wrist watch is designed to let you see the time in a split second and get on with what you were doing," Google writes. "Designing for Android Wear is no different. The less time it takes to use your software, the more time the user can be present in whatever they are doing. Android wear is fast, sharp, and immediate."
This isn't to say Android Wear and the Apple Watch are exactly the same. Even if they're trying to arrive at the same place, they manage to head down diverging paths along the way.
Glances and notifications
On a basic level, the Apple Watch and Android Wear are both driven by actionable notifications--such as the ability to delete an email or respond to a message straight from the watch--as well as information cards that you can quickly glance at. The primary difference appears to be in the way everything's laid out.
Android Wear's interface is like a big spinal cord, with glanceable cards, actionable notifications and even music playback controls mashed up into a single, vertical menu. Swiping to the right of any notification brings up potential actions (such as delete and reply buttons for email). In some cases you can launch a proper watch app from its corresponding notification.
The Apple Watch takes a more tentacled approach. Instead of combining glances and notifications into a single column, the two are distinct entities. When you want a quick hit of simple information, such as a current stock price or sports score, you swipe up to the Glances section, then swipe across to the info card you're looking for. Tapping on a Glance leads to its corresponding app if you want to do more.
Notifications on the Apple Watch are more fleeting, popping up with only minimal information at first. If you tap the screen or keep your wrist raised, more information and possible actions appear. Otherwise, the notification disappears.