Apple v. Samsung and the road to patent sanity
Apple's attempt to grab all of Samsung's profits highlights the need for major reform.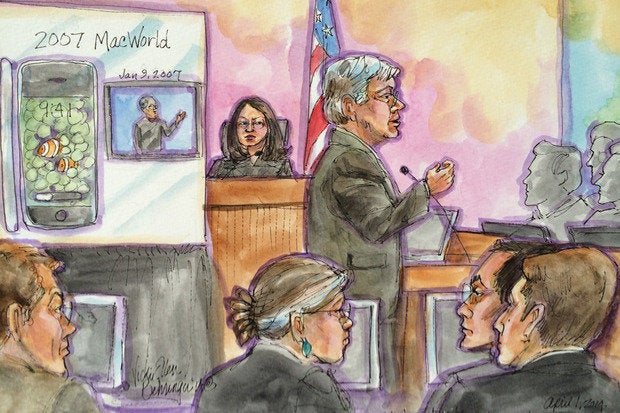 When Apple CEO Tim Cook unveiled the iPhone 6 and 6 Plus in September, amid the "oohs" and "ahs," some of us were thinking, "Wow, these stretched iPhones look a lot like Samsung's Galaxy devices."
So it's ironic that the two companies just resumed a years-long war over Samsung's supposed copying of Apple's products in a D.C. federal court. Apple claims that in the smartphone's early days, Samsung's device shapes and graphical icons too closely resembled the iPhone's. After Apple tried, but failed, to ban importation of all Samsung devices, a jury awarded Apple an astounding $929 million. Another case awarded Apple $120 million -- though Apple had been seeking more than $2 billion. This summer the firms settled some 40 disputes around the world, which leaves the two big U.S. verdicts, both of which are under appeal.
The numbers are so large because a quirk of the 1887 law governing "design patents" seemingly allows for the disgorgement of the "total profit" derived from the infringing products. Yet there is controversy over the meaning of the law in a modern technological economy. And like the debate over suspect software patents, many question the very validity of some types of design patents, which cover not technical functionality but appearance, or "look and feel."
Apple v. Samsung is important because of its place in what I call the "patent reformation." Over the last several decades, we issued far too many patents of dubious quality -- often for software code, or business practices, or appearance, as in the Apple-Samsung cases. The flood of patents fueled a litigation explosion, and the link between intellectual property and real innovation frayed. In a new report, for example, the Congressional Budget Office shows that the large increase in patent applications and awards over the last three decades has not boosted productivity growth.
Most technology and policy experts over the last few years came to agree on the need for major reform. Last session, Congress narrowly failed to enact a major intellectual-property overhaul. But in June, the Supreme Court revised software patent law, in the landmark CLS Bank v. Alice Corp. case. Since then, courts have been invalidating software patents at a faster rate than ever. "Among the invalidated patents," notes The Wall Street Journal, "was one involving an online dieting tool, another for a computer bingo game, and yet another for using a computer to convert reward points from one company's loyalty program to another's." In addition to a tightening of judicial reins, a number of big technology companies, including Google, have voluntarily settled major disputes, leaving Apple-Samsung as the unresolved stand-off in what Steve Jobs called the "thermonuclear" smartphone wars.